---
KISS Alive Forever:
The Complete Touring History
From: Curt Gooch and Jeff Suhs

---
SNEAK PREVIEWS
KISS Alive Forever: The Complete Touring History, will be released on Tuesday, October 1 but KISS ASYLUM has arranged to bring you five exclusive "sneak peeks" inside the book. Advance copies of the book can be ordered at www.kissaliveforever.com.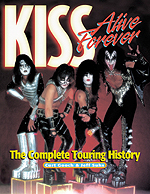 Over-sized trade paperback (8 _ " X 11")


288 pages on glossy Productolith stock


Featuring over 175 color photographs from all eras of KISS's history


Billboard Books, an imprint of Watson-Guptill Publications


ISBN: 0823083225


Release Date: October 1, 2002

More than two months before its official release, KISS Alive Forever: The Complete Touring History is already being hailed as "The Holy Grail of KISS books." This unauthorized look at the touring history of the most influential live concert act in rock explores the entire arc of KISS's career, detailing every one of the band's 1,810 performances.

Seven years in the making, KISS Alive Forever is the end result of exhaustive research by its authors Curt Gooch and Jeff Suhs, who reveal hundreds of previously unknown stories and facts about KISS herein. Exclusive interviews with over100 former KISS employees, friends, and even band members make KISS Alive Forever a thoroughly addictive, immersive experience. The already rich text is brought to life by the inclusion of over 175 color photographs, most of which have never been published before. For the first time, readers will be able to see the infamous 1974 photo shoot where Ace could apply only half of his KISS makeup, as well as several 1970s-era non-makeup shots.

KISS Alive Forever succeeds in deconstructing the myths behind KISS's world-renowned concerts and lays bare the underlying story: the compelling tale of four young New York musicians who grew up to conquer the world of rock and left an indelible stamp on American pop culture.

Curt Gooch and Jeff Suhs, previously worked together on the officially licensed KISS Trivia Challenge CD-ROM game. The authors will be promoting KISS Alive Forever through personal appearances at KISS Expos and on their official Web site, www.kissaliveforever.com where seven excerpts from the book provide a glimpse of this unique masterpiece.

Advance, autographed copies of the book can be purchased directly from the authors at www.kissaliveforever.com

For further information, please write to press@kissaliveforever.com





KISS Guitar Tabs
The #1 source for KISS Guitar and Bass tabs on the internet! A great resource for those KISS fans that can wield an ax!

KISS Album Focus
Exploring the history of the band through each album release. You'll be able to find out the logic behind the releases, what was going on in the band during the recording of albums, what the band was up to in the period leading up to studio time, and lots more information which should be of interest to the diehard fan!

Sound Off KISS Army
KISS ASYLUM wanted to open the door to other writers out there and give them a place where they can voice their opinions about KISS. We bet there are more than a few of you who have at least one KISS related topic burning in you that you'd love to write a one time piece about. Well, KISS ASYLUM is happy to bring to you a forum in which to do so in our new feature "SOUND OFF!" KISS ARMY.

KISS Thought Vault
The "Summertime Memories" Kiss Thought Vault finds Ron Albanese waxing nostalgic over summers past, by way of release dates and pinball. A certain starry-eyed little girl also secures her place in Vault history. Also mentioned: The Harlem Globetrotters.

KISS Video Spotlight
What I have in store for you is a real treat. What you are about to read is an interview I recently completed with WNEW DJ (and fellow NJ resident) Ed Trunk.