Orlando KISS
Expo '98
&
Bruce Kulick
Guitar Clinic
---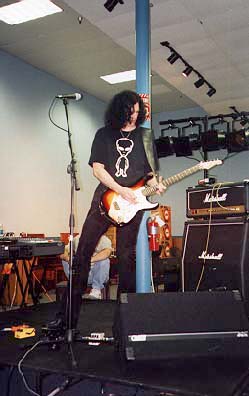 The weekend of March 28th & 29th was a great one for KISS fans to be in Orlando, Florida! The city was host to two wonderful events over this past weekend: a Bruce Kulick guitar clinic on Saturday and a rocking KISS Expo on Sunday.

The weekend started off with a BANG at Thoroughbred Music, the site of a smokin' guitar clinic by guitarist extraordinaire Bruce Kulick. The clinic, which was originally slated to begin at 4:00 p.m., officially ended up starting at 2:30 p.m. instead. The reason for the time change involved an ill fated trip to the Livestock Festival in Tampa..... but more on that in a bit! Bruce arrived at Thoroughbred early with trusty ESP in hand so he could set up the gear, but before warming up he browsed the store for a nice Les Paul to use at the Expo (the clinic also doubled as a chance for him to "try out" the gear to be used at the Expo the following day). After selecting the guitar of his choice, Bruce proceeded to plug in and warm up. Satisfied all was ready, Bruce took a little break for a snack while the clinic area filled up with eager fans and guitar players.

It's a good thing there was a fire extinguisher right behind Bruce on the stage from which he dazzled the assembled fans because he absolutely blazed into the first song of the clinic, "Unholy!" It was a slightly different version than on the Revenge album in that the solo was shorter, but of course Bruce "made up" for the shorter solo section by throwing in fills throughout. "Heart of Chrome" was up next, and Bruce handled the fact that the DAT tape he was playing with had no Paul vocal by improvising his own guitar "vocal" for the song instead!! He followed that with another Revenge guitar great, "Tough Love," then moved on to an intense, "angry" instrumental track of his own creation called "Liar."

Bruce also treated the fans in attendance to "495," another instrumental track he had written many years ago when he was in a band called the "Good Rats." According to Bruce the song title comes from the name/number of the expressway he used to drive back and forth to rehearsals with the band! Bruce wound up the clinic with a killer version of the "Star Spangled Banner." Much longer and nastier than the Alive 3 version, it was an awesome way to end a spectacular demonstration of first rate, kick ass guitar playing!!
| | | | | | |
| --- | --- | --- | --- | --- | --- |
| | | | | | |
| | | | | | |
The clinic ended early enough that Bruce and UNION band mate John Corabi (who showed up halfway through the clinic and proceeded to good-naturedly heckle Bruce from the back of the room!) had time to hang out and autograph things for the fans and take some pictures. Everyone had a great time, and the guys stayed as long as they could before heading out to Tampa for what they thought would be a Livestock performance. Things, however, did not go quite as planned......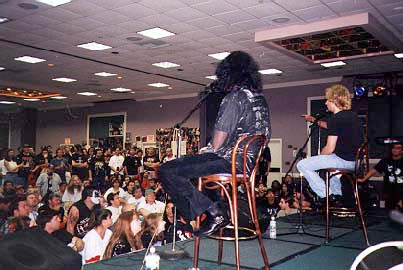 Only a day before the clinic, Bruce and John found out they had been offered the chance to go perform a brief acoustic set between set changes at the Livestock Festival in Tampa, Florida if they so desired. Hearing that there were supposedly as many as 30,000 people in potential attendance the guys jumped at the opportunity to get their excellent music some massive exposure. They were told they needed to be there at 5:00 p.m. to perform their set (thus necessitating the clinic time change to allow for the hour and 15 minute drive between Orlando & Tampa). Unfortunately, due to circumstances beyond the guys' control their planned acoustic set did not come to pass, but they have made note to check into bringing the whole band back next year to rock Tampa's ass!
The Orlando KISS Expo '98 was held at the Holiday Inn on International Drive on Sunday, March 29th, and Expo promoters Keith Laroux and Russell Dannecker brought KISS fans another excellent KISS gathering! Everyone who attended the Expo got to start their day off right by receiving a small grab bag of goodies (best item, a KISS solo faces puzzle) as they entered the hall. And, as to be expected, they were then greeted with plenty of dealers set up around the convention hall with every KISS item you could possibly imagine up for sale or trade.
The events for the day began with a Q&A session featuring Bruce Kulick and Eric Singer. The guys fielded and gamely answered questions from the fans for the better part of an hour. One of the highlights included their answers to the question: "What was your most 'Spinal Tap-ish'/strange experience while you were with KISS?" Eric's response was an interesting tale of KISS being hired to play at a private wedding!! Apparently one of the families was very wealthy, and flew the band out to the wedding in the family's personal Lear Jet for the wedding reception (at a hotel the family also owned!!). Eric said they actually played in tuxes, with a string orchestra accompanying them on songs like "Forever!!!" Bruce chimed in by recounting a time on tour when he accidentally walked in on Gene and a female fan in a "compromising position." What did he think of what he saw? "It wasn't a pretty sight let me tell ya!" he said.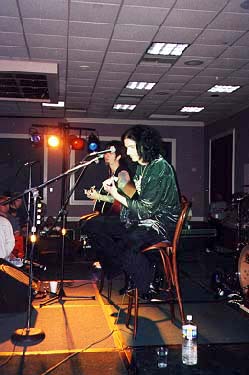 The Q&A was followed by a UNION acoustic set from Bruce and John Corabi. They began with "October Morning Wind," which sounds as good live as it does on the UNION album, and followed it with "Pain Behind Your Eyes," a song that - with the help of backing vocals from Bruce - works amazingly well in an unplugged setting considering the album version is such a hard rocking song. Then came John belting out "Love (I Don't Need It Anymore)," again supplemented with great backing vocals from Bruce, followed by "Beth." John's voice more than does justice to this KISS classic. Then came the Beatles' "Hey, You've Got To Hide Your Love Away," after which the guys closed out their set with the emotional "Robin's Song" from the UNION album.
Immediately following their set, Bruce and John set up for a UNION autograph session so the fans could meet the guys, get a picture, and have all things UNION signed. No surprise, Bruce and John were fantastic about signing everything people asked them to, as well as taking pictures with anyone who asked...... and the line was tremendous! So much so in fact, that the Expo promoters decided to go ahead and begin the next Q&A session while Bruce and John were still signing in order to keep things on schedule.
Tod Howarth and John Regan, both former members of Frehley's Comet at various points during that band's tenure, and Gary Corbet, onetime KISS keyboard player, took the stage for a bit to field some questions from the fans. Their session was not very long, but they did have some cool things to say about Ace and Eric Carr.
Then came the event most were probably waiting for..... the all-star KISS jam session!! The songs covered in the set list were spectacular!! In addition to the band covering a Led Zeppelin tune, John Corabi sang covers of Jimi Hendrix's "Purple Haze" as well as (with John on lead guitar, Bruce on bass, Eric on drums and Gary on keyboards), the Beatles' "Oh Darlin'." UNION has recorded "Oh Darlin'"and it may end up as a b-side or bonus cut somewhere, though they are not sure of this as of yet. John also stepped up to the mic for vocal duties on a killer version of "She," which included Corabi's best Ace guitar solo impersonation during the breakdown.
Karl Cochran and John Regan traded off on bass, with Karl picking up a six string whenever Regan was thumping on the bass, and along with Gary on keyboards they slammed through a cover of "Going Down," as well as the KISS classics "Watchin' You," "Domino," and "Cold Gin." Along the way, Eric sang the hell out of "Strange Ways"and "Nothin' To Lose" (with John Corabi taking the Peter Criss "vocal fills" role - like KISS did it at MTV Unplugged). And much to the delight of the fans, Bruce even slipped a version of the "Star Spangled Banner" (similar to the Alive 3 version, but beefed up even more!!!) into the set at one point while the other guys were figuring out who was up next on vocals and bass!!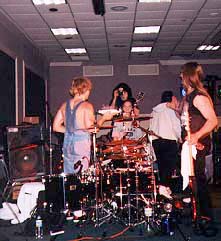 Here's an interesting note for all you "Carnival of Souls" fans: people were continually shouting out requests for songs from that album during the jam, and while the band didn't play any of them Bruce did give fans of the album hope of hearing the material live by telling everyone to, "Wait for the UNION tour to hear those." Yes!
Though for different reasons, Eric and Bruce & John were all scheduled to be going to Europe shortly after the Expo (Bruce and John are actually already there for a UNION promo tour - click here for their complete European itinerary), so the Expo promoters arranged for a birthday cake to be brought on stage at the end of the jam so Eric Singer could celebrate his birthday early with friends and fans. The fans rose to the unexpected occasion in fine form and joined all those on stage in singing "Happy Birthday" to Eric, who seemed both surprised and pleased that everyone had thought to recognize his birthday early! Even Bruce was snapping pictures of Eric getting his cake just like the rest of the fans! It was a nice ending to a killer jam.
The final event of the long and thoroughly entertaining day was the autograph session with Bruce and Eric. After a brief break to clear out the stage and all the equipment, two tables were set up at one end of the convention hall from which Bruce and Eric held court until everyone in line got the picture and/or autograph they wanted. All in all a great weekend for KISS & UNION fans! KISS/UNION Asylum would like to extend a special "Thank You" to "Rockin" Rob Penticoff (Turbo Robb) for the excellent directions he supplied to us for getting to and from the various event locations!
For upcoming KISS Expo Dates, check KISS Asylum's Expo Tour Dates Page.
Other Orlando KISS Expo Reports:

Bryan Lambert and Erik Bigalke's report
KISS Asylum Chat Goers Meet!
From: Chris aka "Destroyer"
Here is a picture of us at the Orlando Expo. This pict is the friends of the Asylum chat. We all met up at the expo for the first time. It was BUZZ's idea to have all our pictures made. The words on the pic are our screen names. We all had a Blast at the expo!
---
Copyrighted (c) 1998 KISS Asylum/The UNION Asylum, all rights reserved.
Please do not reproduce this article or photographs without prior consent!
---
---