Click Above For Info On The KAOL '99 Album
---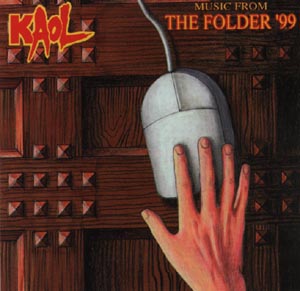 "KAOL -- Music From The Folder '99"
Album Review
KAOL -- "Music From The Folder"
Visit this web page and tell them "The KISS Asylum" sent ya!
---
Back by popular demand, the KISS Army Online - Music From "The Folder" CD is once again available for purchase. New and improved for '99, the 19 track disc features 5 brand new covers that were not on the original release, while many of the previously recorded tracks have received a face lift for the re-issue. The CD, like it's predecessors the original Music From the Folder and Creatures From the Net, comes with phenomenonal packaging, including: special Eric Carr guitar pick fully authorized by the Caravello family, see-though color CD tray with back cover liner notes, and an 8 page fold out booklet with great text detailing the history of the KAOL trilogy project. And of course, its also packed with 19 excellent tracks from your fellow KISS fans, as well as a second, never before released song from Eric Carr's Cellarmen and a rare 1990 audio clip from the Fox. For those who already have the original KAOL disc, the great packaging and 5 new tracks make KAOL '99 well worth picking up again. And for those who never heard the CD that started it all, well here's your chance to get a special piece of KISStory created by your fellow KISS fans to honor the legacy of the great Eric Carr.

"Got Love For Sale" - If you have Creatures of the Net (and if you don't, why not?!) you are already familiar with The Mass, who covered "Goin' Blind" for KAOL's sister disc. This awesome band, lead by Black Crowes/Chris Robinson sound-alike Jeff Payne, once again turns in an incredible performance. This ass kicking, hard rocking track is a great choice to open the disc, definately getting the party off to a rocking start. The Mass, while for the most part turning in a faithful rendition of "Got Love For Sale", nevertheless manage to put their own special stamp on the track by mixing into the track a segment from KISS's performance of "Nothing To Lose" off Alive! These boys are extremely talanted and we can all only hope they'll be making an appearance on the KAOL trilogy's final installment, "The Spirit of '78."

"Strange Ways" - Bone Daddy drummer Dan Davie sets the pace for this one with his relentless, tribal, pounding drums, which bassist J. McCaffrey brilliantly compliments. Throw in a little in-your-face Bart Collins on lead and backing vocals (including the demonic "chanting" of some lyrics) and mix with the screaming lead axe work of C.J. Scioscia and you've got an incredibly heavy, nasty, take no prisoners track; one of the best tracks on the disc for sure!

"Mr. Speed" - Shirk Smile frontman John Stockwell plays Paul Stanley in a KISS tribute band, and one listen to this track will tell you why! John, who provides all vocals on the track, has got the Starchild's delivery down, yet with a spice of his own. You can easily picture John in command onstage at the mic working an appreciative crowd after hearing his performance on this track. John's vocals have been beautifully layered in this well produced mix. Not to be outdone by John turning in all vocals, Dave Wellerstein provides all instrumentation for the track, including a blisteringly executed solo.

"Naked City" - The multi-talented Kathy LaBonte (producer/brainchild/den-mother of the KAOL undertaking) has taken the liberty of remixing her already incredible arrangement of this "Unmasked" cover for the KAOL re-issue. As with her absoluttely BRILLIANT version of "Jungle" on Creatures of the Net (one of the best KISS covers ever recorded), Kathy has provided KAOL with a real gem of a KISS cover for the KAOL project. Providing all instrumentation, Kathy has put together an amazing arrangement which will have you listening to this oft forgotten KISS tune with a whole new level of appreciation. As with versions of some other KISS covers Kathy has been involved with ("Kissin' Time" off Creatures of the Net for example), I actually like this version BETTER than KISS's!

"X-Ray Eyes" - Same song, same order, new kick ass arrangement! Yes, this KAOL original has been tweaked somewhat, with a new lead vocal laid down by Bart "Bone Daddy" Collins. Nile Carter and Jheni Clason provide the excellent backing vocals - Nile and Bart joining for an absolutely brilliant harmony coming out of the breakdown/solo. The musical score has been reworked as well, improving what was already a good track by "cleaning" up the guitars and adding some of that trademark Kathy LaBonte keyboard work!

"Creatures of the Night" - KISS tribute band Destroyer has remixed their already excellent version of this KISS classic for the KAOL '99 reissue, giving the track a much crisper, more balanced feel. The drums have been brought up front a bit more in the mix (always welcome to this drum fan!), and the vocals, particularly the backing vocals, have benefited from the remix as well. Make no mistake though, this track was already a kick ass cover and its clear that the guys of Destroyer know exactly what they're doing! Their version is an incredibly faithfully executed rendition of one of the all time KISS classics, with each member knocking their part out of the park.

"War Machine" - I hesitate to even try to descibe this one as it is best personally experienced. I mean, what can you say about a cover that takes arguably the HARDEST KISS track ever and turns it into a LOUNGE song??? I'll tell you what I say.... PURE GENIUS! From the demons' "scream" to the brilliant use of a clip from KISS Meets the Phantom (no, not Paul Stanley) this one kicks ass from start to finish! Matt "GodoThndr" Totsky's perky, irony laced narration plays beautifully off of Michell "Mrs. Nite Grin" Stockwell's silky smooth backing vocal. Loungelizardboots, who also provided the incomprable "Larger Than Life" for Creatures of the Net, have stated that they will not be appearing on the final installment of the KAOL trilogy, "The Spirit of '78." As I have in the past, I would like to formally lodge my protest to this sad declaration. Of course, I must respect Matt's wishes if he truly believes the 'boots have run their course, but please consider your disappointed public one last time before locking that desion in stone o' GodoThndr the great one.

"Comin' Home" - Superstar 16 provides the first completely new for '99 track to the KAOL re-issue, and a welcome addition it is indeed! This track has a great, energetic feel, thanks in large part to Kevin Drinan's strong lead vocal performance. Kevin also provides all the guitar work for the track, and is joined by Hunt brothers Dan & Stephen, on bass and drums respectively, for this energetic performance. The music is excellently produced, the drums in particular standing out both for Stephen's performance as well as their position in the mix! An excellent new addition; well "home" to the folder guys!

"World Without Heroes" - This track did appear on the original KAOL disc, but has had some rather extensive reworking done to it. A new lead vocal has been been laid down for the re-issue by Nile Carter, he of "See You Tonite" (KAOL) and "Hard Luck Woman" (Creatures of the Net) fame. As always, Nile has done a tremendous job on the track, really capturing the feel of the lyrics and delivering them with emotion and conviction. Kathy LaBonte's backing score remains the same, which is a good thing considering it was perfect the first time around! I've said it before and I'll say it again..... I WANT A TOTALLY NILE & KATHY CD!!!!! Ok, back to your regularly scheduled review.

"Beth" - A very fine vocal performance is turned in here by Mark Gray. Mark, who sounds like a cross between Bob Seger and Kenny Rogers (and I mean that in a good way!), delivers this one with as much emotion as I've heard, yet manages to do so without sounding sappy or overwrought. The track itself is beautifully structured, with the vocal out in front of an excellent keyboard performance, also turned in by Mr. Gray. Definately a welcome addition to the KAOL '99 re-issue.

"She" - Another new track for the re-issue, Sand has really put their personal stamp on this track, beginning immediately with a guitar heavy, "crunchy" intro to the song, which is merely a preview of the wonderful guitar work to come. Other Sand specials include a pause/delay thrown in at the end of each chorus, as well as a more "crunchy" overall structure. Drummer Eric Nasell makes liberal use of his cymbals, Baffe Ohlsson's bass will rattle objects off your shelves, and Kim Bjorkegren and Dimman Stassos have laid down some great guitar work for this one. Definately the highlight of KAOL's class of '99!

"Love Her All I Can" - Lithium provides another new track for the re-issue, and a damn good one at that! Very faithful to the original, lead axe man Sameer Varde does a really nice job on the solo, while drummer Kaled Khaznehkatbi keeps the pace with a thumping bass drum positioned wonderfully in the mix. Tommy Rifai's layered vocals are also very well done, beautifully topping off this fast paced and very catchy track.

"Strutter" - Don't worry, this ain't no "Strutter '78" going on! Benny and the Jet City Band have avoided any semblence of disco in their rendition of this perrennial KISS favorite. Pete Ortega clearly knows what he's doing behind the drum kit, and he and fellow rhythm section member Rob Potoshnik's rollin' bass lay an awesome foundation for their bandmates to work with. Benny Doro and Mark Hopkins take full advantage of this, turning in ripping, aggressive guitar performances, including both the mid-song solo and "outro" solo performances. Benny also does double duty by providing all vocals for the track, leaving no doubt that he's a frontman to be contended with!

"See You Tonite" - Nile Carter (aka Gene Jr.) is quite simply an AWESOME musician! Nile, who provided the incredible rendition of "Hard Luck Woman" on Creatures of the Net, has slightly reworked his already kick ass version of this gem from the Demon's solo album. Providing all vocals and instrumentation, Nile has tweaked the original KAOL version by adding a simply beautiful accapella intro to the track, proving once again that he's da man! My favorite track on the disc, it is clear that Nile and the acoustic guitar are made for each other. His performance here is simply flawless, and I for one can't wait for "The Spirit of '78" on which we have been promised not one, but two Nile Carter classic performances!

"God of Thunder" - You can almost feel the flames as the charged up intro to this track rips in to the first verse! "Crunch" is the only way to describe the sound of this one, right down to the vocal which has been run through some sort of distortion, only adding to the already ominous feel of the track. Jurassik Army, who provided the equally impressive "Detroit Rock City" on Creatures of the Net, have put their own spin on this one all right, down to the background effects, echos, and layered vocals. Along with the overwhelming guitar crunch of Laughon Bryant, who also provides those demonic vocals, Jon Edwards has turned in some impressive drumming, which, as the producer of the track, he also positioned very nicely in the mix!

"All American Man" - Chronic Disorder - kicking serious ass and taking names! Brad Sellars' THUNDERING double bass kit and machine gun snare is the clear standout of this monstrous track, though Doug "Cronic3" Canipe's vocals more than keep the pace! Not to be outdone, James Ford and Chip Whitesides have laid down some absolutely brilliant, buzzsaw guitar work, ripping through anything and everything in their path! Watch out Nile, these snarling electric monsters are hot on your acoustic heels as my second favorite track on the disc. And hopefully Cronic, after a disappointing absence from Creatures of the Net, will show back up for KAOL's last stand on "The Spirit of '78."

"Your Turn To Cry" - Another early, previously unreleased song featuring Eric Carr from his time with the Cellarmen, this Beatles-esque track, complete with Lennon-like harmonica, demonstrates that Eric always had what it takes, both behind the drums and in front of the mic. Hats off once again to the Caravello family for supporting KAOL & MusiCare Online's efforts to raise money for charity in the memory of Eric by donating this rare track for the KAOL '99 re-issue disc.

"Remembering Eric" - This brief audio clip is taken from a private video shot during the Hot In The Shade tour. It features Eric's comments about KISS fans and how hard he tries to please them by giving every performance his all, reminding us both what a genuine, caring person Eric was as well as what the KAOL project really stands for.

"Love Theme from KAOL" - Once again Kathy puts together a KISS cover that I like better than KISS's version (sensing a trend here?). Providing all instrumentation (if I could have just one tenth of her talent I'd be happy!) Kathy's rendition is a relaxing and melodic experience; a wonderful way to close a wonderful album.

This CD really is a superior product, both visually and musically. If you are a KISS fan (or just a fan of good music) you really owe it to yourself to add this tribute disc to your collection. Remember, not only will you be picking up a disc with great music that represents a special piece of KISStory ("For the fans, by the fans"), you'll be supporting the memory of Eric and helping fight cancer at the same time! Just click on the banner at the top of this page for more info on the KAOL projects, including ordering information.
---
Review by Elizabeth White
Copyright (c) 1999 KISS Asylum, all rights reserved.
Please do not reproduce this article without prior consent!
---
---