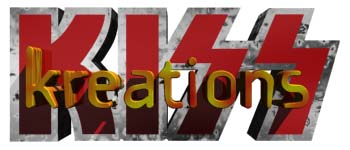 ---
Why ANOTHER Kiss web page?

This site is intended for ALL KISS fans everywhere. It is our opinion that ANYONE should be able to have a great looking page, whether you are graphically inclined or not. Feel free to use ANYTHING on this page to enhance your Kiss web vision.

There are some guidelines we'd really like you to follow.... Any graphics taken from this page and placed into your page must display the "Kiss Kreations" logo with a link back to this site. Also, you must display the proper copyright information. The band worked hard to create the KISS logo and they deserve every accolade they receive. Plus, it's the legal way to do things.

This page is best viewed with a minimum resolution of 800 x 600 pixels and Netscape Navigator 3.0 or Internet Explorer 3.0. Enjoy!

-- Doug Cataldo & John White
---



Kreations| Albums | Logos | Backgrounds | Bars | Buttons

Cassette Covers | Strategies | Links

Kiss Kreations ©1997 by Doug Cataldo and The KISS Asylum. The KISS Logo & other materials ©1997 Kiss Catalog LTD.
The KISS Asylum is a non-profit website and only exists for the enjoyment of KISS fans.
If you have any questions about the graphics or have a suggestion about a graphic, email Doug Cataldo.