---
May 23
---
From: patdemon@videotron.ca
Good news for KISS fans! We are now taking pre-orders for the KISS VIP passes! Those special tickets, which come laminated, are available only until July 31st, 2002 and are limited to only 75! No extra tickets will be printed! Their beautiful design will make them instant collector's items! The great advantage of these laminates is that you get in at 10:15 am, 45 minutes BEFORE the doors officially open to the public. You get a first look at what the vendors will have for sale, as well as seeing the tribute band do soundcheck and who knows, maybe meet a special guest or two before the scheduled appearance! Those VIP passes are 16.00$ U.S. or 25.00$ Canadian. Regular advance tickets are 9.00$ U.S. or 13.50$ Canadian. For those of you who didn't know, the 4th annual Montreal KISS expo is all set to take place on September 8, 2002 at the Holiday Inn Crowne Plaza located at 420 Sherbrooke street west, in downtown Montreal. Special guests soon to be announced. Montreal's own Phantoms of the Park will be performing in full 1977 Love Gun era regalia! There will be tons of door prizes, as well as the KISS look-alike contest! There will also be a bigger KISS museum featuring more rare collectibles! Free gift to the first 100 fans through the door! For more info on this great KISS event, you can visit our website at www.kissexpo.com or call the Montreal KISS EXPO HOTLINE at (450)348-4900. Join our ever-growing mailing list to get weekly updates! This year's show will be the best one yet. This is the KISS event you donıt want to miss! Our shows keep getting better yearly and the 2002 show will be no exception! More details coming soon! []
---
May 16
---
From: KULICK.net
Hello everyone! Sorry for the downtime (again) on my site, but I believe things have finally been sorted out. As you know I have gotten busy again with Grand Funk, and please go check the schedule for dates in your area. We have quite a busy summer coming up, and you will not be disappointed. I got a surprise in the mail on Saturday, a Gold Grand Funk Railroad disc made out to me, for their greatest hits CD. The catalog obviously sells from our shows, and that is a nice addition for my collection. Also we are still working on new material that we will keep adding into the show. We just did a show in Peoria, ILL to kick off a Blue Angel air show. Got to see them practice... AMAZING. These guys are so precise. Some of the pilots got to watch the "American Band" do their thing and came backstage for some pizza and cake. (Don's wife had a birthday). Speaking of Don, you should all have caught that commercial by now for GMC, or Buick, or Pontiac featuring "We're An American Band". So good to hear our encore song on the TV every five minutes or so!! I have been doing some clinics for ESP guitar of late and that has been really great in educating once again my solo disc Audio Dog, and my Grand Funk gig. They have some new guitar models that are great, so I get to feature me and the guitars up close. My clinic at Mars in Ft Lauderdale had a great crowd, and I have one this weekend. Saturday May 18th, Sacramento, CA. Skips Music. 1PM sharp. Free to all and I will be signing etc, after ripping some riffs on my guitar. I really enjoy these, so dont miss it. Skips number is 916-484-7575. [More...] []
From: Phil Eliott
Two years in the planning...From the Promoter of the successful Atlanta and Nashville KISS Expos comes the birth of a long awaited event! Calling all KISS Fans to another Mother of all KISS Expos! The KISS Army will unite again at Kreatures of the South's 1st Annual Charlotte KISS Expo Sunday, August 25, 2002 (Gene Simmons Birthday!) 11am-9pm at The Charlotte Hilton University Place (8629 JM Keynes Drive.) in Charlotte, North Carolina. Very Special Guests to include: Former KISS Lead Guitarist Bruce Kulick, KEEL Lead Singer Ron Keel, Kentucky's own "SSG" Band, a Top Touring KISS Tribute Band and more Guests to be announced soon! All Major Guests will be doing Q & A sessions, Photo/Autograph sessions, Live Performances by all, and (of course) some surprises! Featuring well over 100+ KISS Dealer Tables from KISS Dealers all over the world in (2) Giant Ballrooms! Makeup/Costume Contest with (3) winners by category: (male-female-kid). Come dressed up for a chance to win $$$ and Prizes! Gene Simmons Birthday Party (everyones invited) the night before (Saturday) in the hotel's bar/restaurant. Photo and Video Cameras are welcome! Like in Atlanta, we're offering (2) levels of admission. The Souvenir VIP Laminate: This allows the holder to enter The Expo :45 minutes early @ 10:15, and also makes for an instant collectable! The 125 VIP Laminates are now SOLD OUT, but advance Souvenir Tickets are still available. (in advance only). The Souvenir Ticket: This allows the holder to enter the expo @ 11:00, and is numbered. The Souvenir Ticket is $10. (in advance), and $12. (at the door). Kids under 10 will be admitted "FREE" with paying adult. Hotel Rooms: The Charlotte Hilton University Place is offering our group a specially discounted "KISS EXPO" room rate of just $72. a night (King-or-Double) by reserving and calling 1-800-HILTONS or call the hotel direct @ 704-547-7444. This rate is good from Thursday-Monday nights! NOTE: Like in Atlanta we will SELL OUT the Hilton's rooms. So get your rooms reserved early:>) ***This Hilton sits next to a man made lake with a boardwalk, paddle boats, shops, bars, and restaurants all around in a high-end part of town! So why not enjoy a long weekend with us at probably the nicest venue on the Expo circuit! You're gonna love it! Stay tuned to KISSASYLUM.com for all the latest additions to "The Biggest 100% KISS Expo!" Fans claim our Atlanta KISS Expo is The Best, so maybe it's time you come to a show that'll give you The Biggest Band for your KISS Dollar and where we all come together as family and friends! The Charlotte KISS Expo is RUN BY THE FANS.....FOR THE FANS!!! Dealer info: Write/Fax/Email/Call us your complete mailing address, and we'll send you a "Dealer packet" with all the necessary info. This packet will include a table map where you can pick your table location. Our Phone: 678-455-7891. The address: Charlotte KISS Expo Dealer Info, PO Box 3456, Cumming, Georgia 30028. Ticket info: Send check, or money orders Payable to: "Kreatures of the South" The address: Charlotte KISS Expo Tickets, PO Box 3456, Cumming, Georgia 30028. You can also "Charge by phone" your tickets using any major credit card. Simply call Phil at 678-455-7891, leave a message (if no one answers) and we'll call you back. Call backs are only for Ticket purchasers and Dealers. You can Email us with any questions or request: KREATURESS@aol.com See you the weekend of August 25th! I-A! []
From: Joop / KISS Kollector Fanzine
Just upon return from the Ace Frehley Birthday Bash and the annual NY KISS Expo, KISS Kollector Fanclub learned that KISS Alive IV has been postponed until wintertime. The delay is caused by the two new songs the band would like to include, since they won't start recording until Summer as they're waiting for Bob Ezrin who's currently in the studio with Porno For Pyros. In other news, Eric Singer's performance with Queen in Amsterdam the other day will air again on Dutch national TV on May 15 so for all of you who missed it the first time, get your VCR's running. []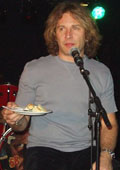 From: webmaster@kissarmysweden.com
Remember the Ace Bash i NJ? Well, Kiss Army Sweden and Eric Singer threw their own "Singer Bash" in Sweden on May 12th. About 300 people showed up at Club Rockers in Vasteras to participate in the annual Kiss Convention festivities. A tight six-hour schedule included several Kissdealers, contests, live perfomances by four Swedish bands including Kiss coverband Kiss Alive, later joined by Eric Singer on two encores, and last but not least, a long signingsession (no limits, kids) with Eric, and a great on-stage Q/A-session.

Since Eric celebrated his birthday, Kiss Army Sweden presented him with a custom made birthday cake. More photos from Eric Singer's appearance at Kiss Army Norways' "Kiss Farewell Party" will be available on http://www.wigwam.no []
---
May 13
---
From: KISSfaq.com
According to a Gene response to a letter on his official website, KISS are no longer with Universal. Gene comments, "Unfortunately, we're no longer with Universal". Depending on what the case is this could have major ramifications, though no doubt, many fans would like to see the band take a road similar to that which the Grateful Dead did - release their own material. One major problem, or issue, I can think of is the status of the KISS Catalog. Did the band retain rights to it, or did Universal keep the cash cow (past releases are strong sellers)? Regardless, after nearly 29 years on the same label (Casablanca was bought by Phonogram and KISS transferred to Mercury which was part of Phonogram; PolyGram was then bought by Universal which was in turn bought by Vivendi. Thus, while the band have been on different labels, they've not left but been transferred as was the case with the band being dumped on Def Jam during the Universal deal which Gene didn't find amusing), it may well spell the end of yet another chapter of KISStory. Guess we'll find out more in due course... []
From: Spawn.com


2002 is going to be one glorious year for the McFarlane Toys KISS collector. In addition to the KISS Busts currently available and the recently announced KISS Alive boxed set, McFarlane Toys is proud to announce two more upcoming KISS exclusives. KISS CREATURES DELUXE BOXED SET. This limited-edition features all four band members (The Demon, Space Ace, The Fox, The Starchild) and a complete stage setup. Box has all instruments including full drum kit and flashing lights. 12-INCH DEMON FROM CREATURES. This is the Demon figure from the KISS Creatures line in 12-inch scale. Packaged in deluxe box. Both the above boxes will be exclusive to Spencer Gifts stores nationwide in September. Spencer stores will also have special KISS displays. Plus, don't forget the standard clamshell-packed individual KISS Creatures figures coming to stores everywhere in July.



That's right, KISS Army, the ever-popular KISS Alive figures - originally released as individual carded figures by McFarlane Toys in 2000 - are being re-released as a deluxe boxed edition. In the tradition of the Metallica figures - the first band we offered as a boxed edition - the KISS Alive box will feature all four band members (Gene Simmons, Paul Stanley, Ace Frehley, Peter Criss), instruments (including a full drum set), stage and lighting. Unlike Metallica, there will be no sound sample. The KISS Alive deluxe boxed set will be available in very limited quantities at most specialty retailers in late August. []
From: G-netic@C2i.net
A professional organized "Kiss Farewell Party" by Kiss Army Norway presented a touching video message from Bruce Kulick and an extremely open hearted and down to earth Eric Singer who really seemed to enjoy the role as Kiss' ambassador of Norway. The straightforward drummer sat down in front of the die-hards to answer any question made. On the questions concerning the future of Kiss with or without Ace, Eric shared his feelings on the subject. "I think Ace will be there for the rest of the Farewell Tour". The signing went smooth and unlike Mr.Frehley, Singer happily signed anything for the fans, giving them a night to remember. Even Norways hottest glam rock band , Wig Wam, showed up on the Farewell party to celebrate Kiss with a Kiss Special show. Surprisingly the band presented some Kiss material the fans hadnıt heard live before in a full scale Kiss show . The songs:. Love Gun, Crazy Crazy Nights, Rocket Ride, Lick It Up, Deuce, Christine Sixteen, Heavenıs on fire, Letıs Put The X in Sex and Car-Laile, which Wig Wam said they wrote for Kissı Alive 4 in their own hysterical way. And why not ! It was brilliant ! Check out the pictures from the show on http://www.wigwam.no . Eric played with the band on the most amazing versions heard of "I was made for loving you" and "Unholy", with the frontman spitting blood. Singer even made the band end the show with another round of Love Gun with him. All in all, it was a night the Norwegian fans will never forget. []



KISS Guitar Tabs
The #1 source for KISS Guitar and Bass tabs on the internet! A great resource for those KISS fans that can wield an ax!

KISS Album Focus
Exploring the history of the band through each album release. You'll be able to find out the logic behind the releases, what was going on in the band during the recording of albums, what the band was up to in the period leading up to studio time, and lots more information which should be of interest to the diehard fan!

Sound Off KISS Army
KISS ASYLUM wanted to open the door to other writers out there and give them a place where they can voice their opinions about KISS. We bet there are more than a few of you who have at least one KISS related topic burning in you that you'd love to write a one time piece about. Well, KISS ASYLUM is happy to bring to you a forum in which to do so in our new feature "SOUND OFF!" KISS ARMY.

KISS Thought Vault
The "Summertime Memories" Kiss Thought Vault finds Ron Albanese waxing nostalgic over summers past, by way of release dates and pinball. A certain starry-eyed little girl also secures her place in Vault history. Also mentioned: The Harlem Globetrotters.

KISS Video Spotlight
What I have in store for you is a real treat. What you are about to read is an interview I recently completed with WNEW DJ (and fellow NJ resident) Ed Trunk.