---
June 30
---
From: www.KISSshop.com


Original AHEAD Poster
---
KISS Shop has added a few cool Peter Criss items to the site. We have the very rare DW Drum Poster and both versions of the Ahead Drum Stick posters (the first promo version and the new Farewell version). The promo Ahead and the DW posters are available hand signed by Peter!!! Over the weekend KISS Shop will be adding all three versions of the guitar picks Peter has been throwing out on the Farewell Tour: the see thru green pick, the powder green pick and the powder green finger pick. KISS Shop is also working on another deal with Peter to bring you autographed Drum Heads and will update you on these shortly. Lastly, Peter wants your fan mail!! Please send letters, pictures or whatever to: Peter Criss, 1933 Hwy 35, #363, Wall, NJ 07719. This is Peter's official mailing address!
Peter Criss Farewell AHEAD Poster | Peter Criss DW Poster
Click Here Now To Order The Autographed Peter Criss Posters
From: WashingtonPost.com
"Simply, yes," says God of Thunder Gene Simmons, the group's co-founder, bassist and--he'll be the first to tell you--its brains, as well. Did we mention Simmons is loquacious? Here's what follows that "Simply, yes": "We've always stubbornly done whatever we wanted to do and said what we meant and meant what we said. So we've never ever issued any kind of press release or announcement saying 'This is the last time . . . '"But after outlasting five presidents . . . after being around for three decades despite [the critics] . . . after selling from 80 to 100 million records, depending on whom you believe . . . after being told by Billboard that we're right behind the Beatles in the number of gold records by any groups in history . . . after basically going where no band has gone before--Kiss movies, KISS condoms, KISS comic books and everything that other bands either derided or could never do in their wildest dreams 'cause let's face it, who wants an R.E.M. lunchbox, no matter how much you like the music . . ."It's simply KISS going out there and playing one last time for the people, our bosses, the fans who put us here."
Click Here To Read The Full Article
From: Rob Skinner Promotions/Marketing Director KLOL
Great news everyone! During the call with Outlaw Dave today, Gene (Simmons) announced that KISS WILL be coming back to Houston one last time due to the fan response from all of you who signed the petition. He even said that they had to cancel another show somewhere else so that they could come here! The show will be on Tuesday, August 22nd at the Cynthia Mitchell Woods Pavilion. As promised, we will be drawing a winner at random from the list of people who signed the petition for four (4) front row KISS tickets for the show. The winner will be notified via email.
From: KISS ASYLUM
Those in the San Francisco area don't forget that former Frehley's Comet band member Tod Howarth is appearing with old friends/band mates Cheap Trick for an acoustic show in Saratoga, California (just "under" San Francisco) tonight, June 30th. Additionally, Tod's entire West of Eight band will open for Cheap Trick on July 2nd in San Diego at a place called Humphries. Be sure to check what will no doubt be awesome shows if you are lucky enough to live or be in the area!
From: cGt 2000 and Nikzilla
An online petition for Australia to be included in the Farewell Tour has now opened up! The Australian Tour Petition was opened as a joint venture between the Aussie KISS fans behind KISS - The Revenge Within (Home of the KISS Fan Sludge Sessions) and Nikzilla's Sonic Hell. Australian KISS fans are invited to go to the site and sign their name onto the petition. Much support is needed and appreciated - the more names attached to the petition, the stronger consolidation the Australian KISS fans have of experiencing the Farewell Tour. Click Here To Sign The Australian Tour Petition
---
June 29
---
From: www.KISSshop.com


You've tried to get one at the show, now you can get one of them to remember that special night on the Farewell tour. Through an exclusive deal with the Spaceman himself, you can own a true limited edition Ace Frehley Farewell guitar pick. These will be the collectible pick of this final tour. Already seen going for over $100 on Ebay, these city specific picks are the first pick of this caliber. Each pick features the new Ace signature surrounded with his original artwork of stars and a planet on one side. The other side has Ace's name with Farewell Tour 2000. Below that, each night of the tour the city name and date change to memorialize that specific show. Also included is an outline of the state in the background!! A true work of art entirely designed by Ace Frehley.

The first 72 cities are in stock and we will be adding new cities as they go on sale. These picks are different from the more common Ace tour picks. Unlike the others, Ace keeps these in a pouch sewn into his costume on his right side. If you keep a close eye you will see him periodically reach into this pouch. Ace tosses only 44 of them nightly into the crowd, along with the many other common ones. Collect one from every show you attend on this final tour. Get yours here without having to fight for them!! Only $22 each while they last. These picks are in stock and are limited to less than 300 per city!! So you can see we will only be able to accommodate a handful of the 10,000+ people that attend most shows. Get yours today, before your show is no longer available!
Click Here Now To Order The Pics Exclusively From KISSshop.com
From: Kathy Labonte
This month marks the 3 year anniversary of the very first KISS Tribute CD put out by the online fans entitled KAOL (Kiss Army OnLine). The project actually took root in late 1996 but in June of 1997, "Music From the Folder" was finally released as a 20 song compilation from musicians of the KISS Army OnLine folder on the AOL message boards. I just want to thank so many of the fans, customers, mailing lists, webmasters, and every soul who has positively supported the KAOL series of projects. Of course, they started out to be a possible way to raise money for charity in Eric Carr's name but have now grown to be the non-profit record label MusiCare Online which handles all of the KAOL releases. MusiCare Online's sole purpose is to make music to raise money and awareness for so many worthy causes. The KISS Army musicians and customers have currently raised over $5,000 for The Children's Hospital of Wisconsin and are now focusing on raising money for the Massachussetts Alzheimer's Association with the remaining KISS Tribute albums coming out this year. Again, a BIG THANK YOU to all of you who have contributed in some way to making KAOL a very special project in KISS history. For those who are new to us, please check out our website for some of the most unique KISS Tribute projects. "A World Without Heroes" is a 200 page truth/fiction novel by Dale Sherman with a 70 minute Soundtrack CD of KISS covers included that follows the storyline chapter by chapter. "Creatures of The Net" is a 20 song Tribute CD including a Partridge Family version of "Shout It Out Loud" mixed by Bob Ezrin. "The Spirit of '78" is the final KAOL CD coming out this fall which will feature 22 songs from the 1978 solo albums. Find out more about how to purchase and what is included in each disc at: www.kissarmyonline.com Thanks for 3 years!
---
June 27
---
From: CNN.com
LOS ANGELES: They parted with their possessions, band members said, so more people could "have a piece of KISS." That $1.6 million probably didn't hurt, either. KISSers Gene Simmons and Paul Stanley raked in that much cash, after putting about 840 items up for auction over the weekend. More than 80 percent got snapped up, including an ax-shaped guitar, which drew $40,250. The Hard Rock Cafe restaurant chain spent about $300,000 on 22 items, including life-size, leather-clad mannequins from the band's "Psycho Circus" tour in 1998-1999. Another hot little item: a diary and lyric book with the names of women with whom Simmons supposedly slept. It went for $5,750. The band, which includes Ace Frehley and Peter Criss, is currently on what's being touted as a farewell tour.
From: Hollywood.com via mister_stinky@my-deja.com
HOLLYWOOD, June 27, 2000 -- Back in the days when KISS was a renegade rock 'n' roll band, it was rumored that their name was an acronym for Knights In Satan's Service. But after the much-publicized KISS auction last weekend at Paramount Studios in Hollywood, we can think of better ones: "Krap Inc. Salvage Sale" or maybe "Kapitalists In Self-Service." And we're sure of at least one thing: Gene Simmons never throws away anything. Anything. Let's say you're a KISS fan, a real die-hard. OK, how much would you pay for a New Year's greeting card that Simmons once received from bandmate Paul Stanley? A card imprinted with the saying, "Is it my imagination, or is life getting better?" and bearing Stanley's handwritten inscription: "Dear Gene, hope you like these. Thanks for another great year. -- Paul." Well, somebody from Baton Rouge, La., paid $850 for it. That's 850 bucks, not $8.50. And that's not all.
Click Here To Read The Full Article
From: Matt Burton / TSI Communications Worldwide
Gathering of Developers to Release Intense First-Person Shooter for PC and Dreamcast this Summer Dallas, TX, June 27, 2000 - What do you get when you mix the creativity of Third Law Interactive with the immensely popular rock group KISS, and the genius of Todd McFarlane? A gaming experience so intense that players' kabuki make-up will be running from the sweat. Third Law Interactive today unveiled more features in its upcoming first-person action-shooter KISS Psycho Circus: The Nightmare Child which will thrill PC and Dreamcast gamers with its fierce action, fantastic creatures and rockin' soundtrack. KISS Psycho Circus: The Nightmare Child will be published by developer-driven computer and video game publisher Gathering of Developers and distributed by Take Two Interactive's Jack of All Games. The game will be available for the PC in July, and the Dreamcast version, which is being developed by Tremor Entertainment, will be released in early September. "This is the darker side of KISS," said Will Loconto, Audio Designer from Third Law Interactive. "Although KISS aficionados are going to love it, the game was designed with all players in mind so you don't have to be a fan to get caught up in the non-stop action, great visuals, classic music and twisted storyline."
Click Here To Read The Full Article
---
June 26
---
From: Butterfields.com
25 June, 2000 Los Angeles... KISS fans and rock collectors "rocked & rolled all weekend long" as they continued their bidding frenzy in Los Angeles today, as well as via the Internet and on telephones from locations across the globe for original KISS costumes, stage-played instruments and other tour memorabilia as well as personal property of the band's originators during Session Two of a two-day auction put on by Greg Manning Auctions and Butterfields, an eBay company. The sale brought more than $1.6 million. The first session on Saturday, June 24 brought more than $888,000 on the auction block. Highlights of Sunday's bidding included:

$86,250 paid for a set of four original KISS costumes on life-size mannequins from the 1977-78 Love Gun/KISS ALIVE II tour depicting Gene Simmons, Paul Stanley, Ace Frehley and Peter Criss in full KISS makeup and complete costumes [lot # 1741, auction estimate $75,000/125,000]
$40,250 paid for an original Gene Simmons KISS axe-form guitar used on the Creatures of The Night Tour, 1983. Case included [lot #1564, auction estimate $5,000/7,000]
$34,500 paid for an original Paul Stanley "star" guitar from the Unmasked/European/Australian Tour era, 1980; comes with original black hardshell case [lot 1610, auction estimate $5,000/7,000]
$25,875 paid for an original KISS painting of the Love Gun album cover by K.W. Kelly. Also included is a black wood heavy-duty display stand [lot # 1727, auction estimate $10,000/15,000]
$20,700 paid for an original Gene Simmons KISS costume on life-size mannequin from the 1975-76 ALIVE! tour. Platform boots included. [lot 1812, auction estimate $20,000/30,000]
$16,100 paid for an original Paul Stanley KISS costume on life-size mannequin from the 1979 Dynasty Tour [lot 1685, auction estimate $12,000/15,000]
$11,500 paid for an original Gene Simmons personally-owned KISS painting of the Destroyer album by artist Ken Kelly [lot 1789, auction estimate $10,000/15,000]
From: Buffnews.com via Brian Cory
With or without Kabuki makeup, KISS is a cottage industry that counts music as only one aspect of its more-bang-for-your-buck flashpot-exploding persona. You want a KISS Love Gun lunch box, lava lamp, skateboard, baseball, clock or other paraphernalia, just log onto the band's Web site. If I had the KISS T-shirt concession at HSBC Arena on Saturday night, I could stop dreaming about being a day trader. The KISS army of conspicuous consumption was out in full force, ready to boogie away its scruples and purchase the odd bit of memorabilia. Say what you will, no other band captures the spirit, the fantasy, the excitement and the pure exuberance of rock 'n' roll better than KISS. That's why going to a KISS concert is such a great dress-up event. There was more makeup in the audience than at a Broadway production of "Cats."
Click Here To Read The Full Article
---
June 25
---
From: Grace / VH-1.com
Are you the ultimate KISS Fan? Do you still go to the concerts in full KISS makeup? Do you have your KISS Memoribilia on display at home? If so, VH-1 FanClub would like to talk to you! VH1 FanClub is a new show about real-life people who really love the band KISS and their music. VH1 FanClub will also talk with KISS about the intense devotion they have from fans to this day. We are currently looking for fans to interview who have interesting stories revolving around their love for KISS and their music. We are looking for die hard fans who will allow us insight into their world of being a fan and their passion for KISS. We want to know why you are a KISS fan. Is there a particular song that has a special relevance in your life? Do you have the largest KISS collection in North America? Are people surprised when you tell them you are a KISS fan? Let us know your stories. Let us know why you should be featured on VH1 Fan Club. To be considered please send your letters and emails to the following: VH1 FanClub: KISS,ATTN: Grace, 12233 West Olympic Blvd. Ste. 240, Los Angeles, CA 90064. E-MAIL: vh1_fanclub_kiss@yahoo.com
From: Yahoo.com
LOS ANGELES (Reuters) - Fake blood and leather codpieces. It must be the two-day auction of KISS rock 'n' roll memorabilia, sold by the group's members, which kicked off Saturday. Rock fans and collectors spent almost $876,000 on an eclectic array of KISS paraphernalia during the event's first day. All items were sold by the group's leaders, Gene Simmons and Paul Stanley, who had accumulated several warehouses full of gear over a career spanning almost 30 years. Officials said the duo organized the yard sale of more than 800 lots because they wanted to allow their fans to share in the KISS experience. KISS, whose lineup also includes Ace Frehley and Peter Criss, is currently performing throughout North America on what the group is billing as a farewell tour. Organized jointly by Butterfields, a unit of eBay Inc., and Greg Manning Auctions Inc., the six-hour sale took place at a theater on the Paramount Pictures lot in Hollywood. About 300 people turned up, and they competed with phone and Internet bidders from around the world......Many bidders were saving their money for the auction's second day, Sunday. Items include original handwritten lyrics to such songs as "Christine Sixteen" and the unreleased "Shadows," as well as costumes from the group's 1970s heyday. Just in case buyers had visions of reproducing their acquisitions, a stern note in the catalog warns that Simmons and Stanley own the copyright to anything KISS-related. And they zealously guard that right. "We sue everybody all the time and without mercy," Simmons once told Reuters. "We will sue you so hard it will hurt your ancestors."
Click Here To Read The Full Article
From: Butterfields.com
24 June, 2000 Los Angeles... KISS fans and rock collectors aggressively bid in Los Angeles today -- as well as via the Internet and on telephones from locations across the globe -- for original KISS costumes, stage-played instruments and other tour memorabilia as well as personal property of the band's originators. The auction action took place during Session One of a two-session auction presented by Greg Manning Auctions and Butterfields. The first session brought more than $888,000 on the auction block, with more exciting bidding expected Sunday, June 25 (beginning at 1 pm). Highlights of the first day's bidding included:

$189,500 paid for a set of four original KISS costumes on life-size mannequins from the 1996-97 Alive Worldwide Reunion tour (platform shoes included!) [lot # 1199, auction estimate $60,000/80,000]
$145,500 paid for the complete set of four original KISS costumes on life-size mannequins from the 1998-99 Psycho Circus tour. Currently on a museum tour, these costumes have been included within New York City's Metropolitan Museum of Art's Rock Style exhibition [lot # 1441A, auction estimate $100,000/145,000]
$32,200 paid for the complete original Gene Simmons KISS costume worn on the Psycho Circus tour in 1999 consisting of a black leotard, silver spike upper body armor, studded codpiece and seven inch silver and black leather "dragon" platform boots [lot #1004, auction estimate $8,000/12,000]
$21,850 paid for an original Gene Simmons custom design Spector electric bass finished in a silver and black pyramid design used originally in the Love Gun/Alive II tours [lot 1126, auction estimate $5,000/7,000]
$17,250 paid for a Gene Simmons bass used on various tours during the 1980s which features Simmons' face (tongue extension greatly exaggerated) in full makeup and the image of a naked woman on the headstock [lot # 1130, auction estimate $5,000/7,000]
$16,100 paid for the prototype Gene Simmons axe-form electric bass guitar with Gene's signature and handwritten design revisions [lot 1128, auction estimate $5,000/7,000]
$13,800 paid for an original set of three oil on canvas album cover paintings depicting comic book style caricatures of the KISS band members by Victor Stabin [lot 1025, auction estimate $5,000/7,500]
From: KISS Freaks
KISS Freaks monitored the first day of the KISS Auction closely and has compiled a comprehensive listing of what the first day lots closing amounts were. Click Here To View The Final Item Bids
From: Kulick.net
Ok Bruce fans, you all know what an awesome guitarist Bruce is, but now's your chance to pick up some cool music that Bruce played bass on! Graham Bonnet, vocalist for such groups as Richie Blackmore's Rainbow, Acatrazz and MSG, as well as many solo efforts, has put together an album with an all star line-up of musicians, including Bruce. The most recent Bonnet CD, "The Day I Went Mad", features Bruce, Slash, Vivian Cambell, Tony Franklin and Kevin Valentine (of KISS related projects) on drums and production. Song titles include: The Day I Went Mad * Don't Look Down * Killer * Oh! Darling * Hey That's Me * This Day * Flying Not Falling * Lolita Crush * Models Inc. * Spiked. Though the cd has been available for awhile in Japan, it is now available for order here in the states! Check out the official Graham Bonnet website at http://www.bonnet-rocks.com for more information, including ordering details!
---
June 24
---
From: KISS ASYLUM
Don't miss your one opportunity to show up live at Hollywood's Paramount Studios, or log onto the Internet for KISS The Auction and win and piece of KISStory. The Auction, containing 850 items personally owned by Gene Simmons and Paul Stanley includes Costumes, Instruments, Drawings, Lyrics and Memorabilia collected by the founders and creators of KISS. Many of the items will start in the $200-300 range and are affordable. Bidders are advised to register early to bid in this event by telephoning Butterfields at 323-850-7500. Online Fans can also be a part of it! Click on over to The Auction Channel to take part in the KISS Auction and place you bid on a piece of KISStory. For more information on The KISS Auction, click over to our KISS ASYLUM KISS Auction News page.
From: Canoe.ca via John Huntington
As they unfurl their batwings and fly out of town, it's worth considering the legacy of KISS, who said a bombastic goodbye to their fans at the Air Canada Centre last night. Over a quarter-century, hundreds of bands, with or without makeup and platforms, have learned from their example. To wit: Don't just rock -- RAWK! Go over the top, then get a stepladder and go over that. Mention the name of the town you're playing at every opportunity. Blow things up real good. And at an opportune moment, turn the houselights on and stun the audience with the self-reflexive sight of the KISS Army en masse. Who's to say whether KISS invented all this stuff? But no band has ever packaged it all into one endearingly carnival-like, fan-friendly package quite like they have. The World Wrestling Federation is only now approaching KISS' level of bombast and bloody-mouthed gothic drama. I'd say their work here is done.
Click Here To Read The Full Article
From: Canoe.ca via John Huntington
There really is no experience quite like being backstage before a KISS concert. Here I am, down below the stands at the Air Canada Centre, and who walks by but the legendary rock band's bassist Gene Simmons. Seriously. "Hey, Mr. Simmons," I say. I can't think of anything else. I mean this is Gene Simmons. "Yes," he says. "Do you want to see my card?" He then digs into his wallet and pulls out his KISS Visa card and, sure enough, it says Gene Simmons at the bottom. "You can keep it," he jokes as he hands it to me. I'll bet his limit's a little higher than mine. "No thanks" I say. "But I'll give you one of my business cards." "It's okay, I don't want it," he jokes. At least I think he was joking. The whole thing is surreal. Running into him was accidental, since I was backstage with Toronto's own Doug Adams, the owner of Pyrotek Special Effects Inc., who does all of KISS's bombs, smoke and fire.
Click Here To Read The Full Article
---
June 23
---
From: KISS ASYLUM
Emil Ortenmark has graciously provided KISS ASYLUM with a great resource for those KISS fans that can wield an ax! Included on the page already are some guitar/bass tabs to some of the most recent KISS songs. While we've got a great start here, we know there are other songs you may be interested in getting a breakdown on so you can drive your neighbors crazy! What songs would you like to see tabulated? Fill out the form on the KISS Guitar Tabs page with your requests and we'll do what we can to get the tabs for your playing pleasure!
Click Here To View The KISS Guitar Tabs!
From: Godgames.com
KISS Psycho Circus: The Nightmare Child video game will be released July 18th for the PC (August for Sega Dreamcast) and will feature 4 different box covers, one for each band member. Godgames.com was kind enough to send KISS ASYLUM the art, which can be viewed below. Click over to KISS ASYLUM's Nightmare Child News page for more information on this hot new video game!





From: Canoe.ca
KISS them goodbye. Consider this the final curtain-call for '70s rock 'n' roll theatre of the absurd as Gene Simmons, Paul Stanley, Ace Frehley and Peter Criss bid a fond adieu with a thunderous Farewell Tour 2000 last night at the Molson Centre. Take that in the most complimentary way, please. There's a certain guilty pleasure that arises from a little over-the-top showmanship, and if 13,500 fans can pay their last respects by pumping their fists, standing and cheering in unison or even donning KISS makeup and platform shoes for the occasion, so be it. It's all in the name of fun and embellishment: The Simmons tongue-wags, the 3D video game-graphics, oodles of fireworks and bang-on pyrotechnics, even the odd spew of blood.
Click Here To Read The Full Article
From: AOL via Hope
For those of you that were unable to participate in the AOL KISS Chat promoting the upcoming KISS Auction, KISS ASYLUM bulletin board member Hope posted up on the ASYLUM BB the full AOL KISS chat transcript from KISS' recent chat. Click Here to read the full transcript.
From: Butterfields.com
On June 24 & 25, more than 850 lots of KISS costumes, tour equipment, stage-played instruments, lyric sheets, original artwork and personal property from the lead members of the outrageous rock band KISS will be offered to the highest bidders in an auction in Los Angeles put on by Butterfields Auctioneers, an eBay company (NASDAQ: EBAY), and Greg Manning Auctions, Inc (NASDAQ: GMAI) with real time online bidding powered by The Auction Channel. The heavily illustrated auction catalog with lot by lot descriptions of each item to be offered is on its way to becoming both Butterfields' and Greg Manning Auctionsą highest selling catalog. Click Here To Read The Full Article
---
June 21
---
From: Gregmanning.com
June 21, 6:00pm PDT (9:00pm EDT) - If you are an AOL member, log onto aol.com keyword: LIVE to witness and participate in this major event. For 30 minutes, ask your questions about The Auction, why Gene & Paul are selling their collection, and what does this really signify? Go to: www.aol.com Keyword: LIVE
From: 101 KLOL Radio
KLOL needs your help! As you probably know, the KISS Farewell Tour was here way back in April. The show sold out in mere minutes and some of you didnąt get a chance to say, well, Farewell! Now we need your support in an effort to make KISS aware of the tremendous demand for them in our hometown. We want to bring them back again so that each and every fan can bid them a Final Farewell! We have already contacted local concert promoters and KISS management and they told us that a return show would be possible but we would have to let them know that Houston really wants them back. The concert promoter has reserved a date at the Cynthia Mitchell Woods Pavillion in the event that the KLOL petition is a success...but as of this minute, no contracts have been signed. This is where you come in! We have set up a petition drive and our goal is to find 10,000 KISS fans that would like to see them return for a Final Farewell show. We feel confident that if we can reach our goal, we will be able to convince KISS to return sometime this summer! Simply fill out the petition form to show your support. All who participate are eligible to win four front row tickets to the show, in the event that we are successful with our efforts. The deadline for the petition is Thursday, June 29th so fill it out NOW! If we are successful in bring KISS back, you will receive an exclusive e-mail announcing their return! Click Here For More Information From Rock 101 KLOL
From: Times Union via Brendan Castle
Ted Nugent first unveiled his loin-clothed Motor City Madman image in the late '60s, and his shtick quickly superseded the mild psychedelia of his band the Amboy Dukes. Kiss upped the ante in the mid-'70s by slathering makeup on top of their power chords. And Skid Row combined the former's macho posturing and the latter's hook-laden heavy metal in the late '80s. All three dinosaur acts trundled into the Saratoga Performing Arts Center Tuesday night for a long, loud show that will be echoed throughout the summer by hard-rock visits from the likes of Ozzy Osbourne and Motley Crue.
Click Here To Read The Full Article
---
June 20
---
From: GoErie.com via Brian Cory
Twenty-seven years ago, in a grimy biker bar in Queens, N.Y., four guys in black leather jackets, hand-lettered T-shirts and black-and-white clown makeup clambered unsteadily onto the stage in platform heels while an announcer barked out words that seemed laughable: "You wanted the best, you got the best! The hottest band in the world ... Kiss!" Audiences back then averaged a half-dozen shell-shocked pub crawlers, many of whom stared blankly, wondering what on earth they were watching. Sometimes lead singer Paul Stanley would jump down, take the drinks out of patrons' hands and force them to clap along. Sometimes the band got cheers; sometimes they got laughed at. That was 75 million album sales ago. Now Stanley, bassist Gene Simmons, lead guitarist Ace Frehley and drummer Peter Criss are on a farewell tour, celebrating 27 years of rocking and rolling all night, and partying every day.
Click Here To Read The Full Article
From: Ebay
AOL Is hosting a chat with Gene Simmons and Paul Stanley of KISS tomorrow, June 21st at 6pm PDT / 9 pm EDT.
From: Kulick.net
Bruce continues to work with his writing partner to bring his biography to life. The book, the working title of which is "Honorable Discharge", will chronicle Bruce's life and work throughout the entire course of his career. Some who have participated in/are lined up for interviews for the book so far, other than Bruce obviously, include: Bob Kulick, Harry & Alice Kulick (Bruce's parents) and some KISS producers. So far, one of the many highlights of the process has consisted of a drive around with Bruce in a car with a CD player full of 11 KISS CDs ('84 to '98) and 1 Blackjack CD (all on random play mode) playing "name that tune!!" This event, and Bruce's comments, will probably result in a chapter unto itself. Interestingly enough it took Bruce awhile to recognize "Love's A Deadly Weapon".... first he thought it was "No,No, No", then "Boomerang". It took more than a minute before he recognized it! The book will continue to progress as time permits in the coming months, so stay tuned for more details. Bruce is also continuing to lay down material for his solo album, with good friend Curt Cuomo helping out with the production of the as yet untitled album. Plans are for the album to have 10 or 11 tracks, with roughly half being instrumentals and half with vocals, which Bruce will handle. It's still early in the process for both biography and solo album, so for more information stay tuned to www.UnionAsylum.com or www.Kulick.net
From: GodGames.com
The people at God Games have sent KISS ASYLUM four MP3 sound clips from the upcoming "Nightmare Child" game. While the game features songs by KISS themselves, it also features some very cool original music created by God Games' own Will Loconto. Clips from "Crux Criticorum", "Blackwell", "Convolution" and "Fortunado" are available now for you to sample, so be sure to check them out!
Click Here To Listen To The Sound Clips
From: Metal Edge Online
After 28 years of touring and starring in all sorts of different entertainment productions, KISS has a lot of stuff in their closets. And as "The Greatest Show On Earth" comes to a close, Gene, Peter, Paul and Ace aren't going to need all their costumes, instruments, original artwork or other memorabilia. So on June 24th and 25th, in Paramount Studios in LA, KISS will be holding a massive auction with material dating from as far back as 1972 to as recent as this year! And Metal Edge Online has a preview of what's on the block for our members! Join Gerri as she takes a tour of the merchandise, stuff like a personal journal of Gene's, Eric Carr's drum set, stage blood from the Psycho Circus tour and whole lot of costumes. Prices range from as low at $100 to as high as $100,000 and the auction will be held on the Internet, as well as in LA, so there's no reason why you can't make a bid. There is enough stuff to bedazzle even the least rabid KISS fan, so you can be certain that there will be something that you'll want! Log on and don't miss seeing things that you may never see again, or that you never knew existed! Remember, if you missed a Metal Edge Online Exclusive you can always log on to the archives at by clicking here!
From: Unionasylum.com
UNION wants everyone involved and the fans who came out to support them to know that they had an amazing time in Sweden. Even though the guys got less than 4 hours of sleep a night, they had the energy to have lots of fun at the three club shows, and of course the Festival was the highlight when the band played for 10,000 people! The guys also had a great opportunity performing live on Swedish national TV 4, which ended up being like an MTV unplugged UNION show. Two songs, Hypnotized and October Morning Wind, were performed [click on the song titles for MP3s of each song] and John and Bruce were interviewed. They had a lot of fun, even though they went straight from the show the night before to the station! Again, UNION wants to thank Stefan and his crew from the KISS Army Sweden for making the trip a success. The band made lots of friends there and really hopes to return again soon!
From: Philadelphia Inquirer Magazine via Brian Cory
"I hope the four guys who make up the group Kiss, whose names don't matter, are putting money away for the future, the near future. Because Kiss won't be around for long." - Seattle Times, May 27, 1974, from the back of a Kiss concert T-shirt. To avoid making this same kind of shortsighted critical assessment of Kiss' Friday night farewell performance at Camden's Waterfront Entertainment Centre, I took along my heavy-metal consultant. His name is Jimmy Satan, and he's big into Kiss.... "Paul Stanley can't even sing at all," observed Satan, a fact that was apparently lost on him until then. There were lots of smoke and pyrotechnics, and bassist Gene Simmons spit fire and fake blood. Someone tossed a bra onstage and, as is the ritual at these affairs, Simmons draped it over his microphone stand.
Click Here To Read The Full Article
---
June 19
---
From: Canoe.ca
It's Saturday afternoon at the Plaza Hotel and the "God Of Thunder" is terrorizing the waiting staff of the very chi-chi and busy Palm Court restaurant. Not to mention a nearby patron. "Go away!" KISS bass-ist-singer Gene Simmons orders one persistent waiter after the other. "Be quiet!" he barks -- while raising a butter knife -- at a woman at a nearby table, who is laughing loudly. Considering that a mere 14 hours earlier Simmons was dressed in a black-studded leather outfit, eight-inch, silver platform boots, and black-and-white kabuki makeup while spewing blood and breathing fire at 16,500 crazed fans during a Long Island concert, you'd think a little noise and attention would be small potatoes. Turns out, Simmons likes his peace and quiet just like the rest of us when he's lunching -- in this case, on scrambled eggs and low-fat cottage cheese (he's on a high-protein diet) with decaf coffee. "I won't play by the cruelties of societal rules," explains Simmons, 50, dressed in a denim shirt, black leather pants and a black baseball hat that covers his long, black hair tied back in a pony tail. "Which is to say that if somebody's rude enough to take up your space, or try to manipulate you to live your life their way -- whether it's a waiter who says, 'I'm sorry, we don't have eggs' -- you're saying it to the wrong guy, okay? 'Cause I'm going to pay you money. And I won't misbehave in public, but some a--hole housewife who's going to come here and start laughing at full volume ... Shut the f--- up.' "
Click Here To Read The Full Article
From: LAtimes.com
Oh, come on! You think KISS is gonna chill now after 27 years . . . those four relentlessly bad boys of rock, twisted Kabuki clowns in silver boots with 7-inch heels, a heavy metal band so thunderous that even its name screams overkill? And speaking of overkill . . . consider the likely prices for high-end items the band will auction off next week in a theater at Paramount Studios in Hollywood. A set of four costumes from the group's 1998-'99 Psycho Circus Tour, displayed on life-size KISS mannequins with silver-and-black snakeskin leather boots, is expected to fetch about $150,000. Compare that with, say, a recent auction of two letters written by President Lincoln, which brought in a total of . . . $104,000. Well, history is history, if you believe KISS's own news release, which describes "KISS: The Auction" "nothing short of KISStoric." "At the end of the day," said KISS founding member Gene Simmons, 50, "the only choices we have are letting the costumes gather dust in some museum, where people have to line up to see it, or some rock 'n' roll hall of fame. If KISS is the quintessential American band--of the people, by the people, for the people--why shouldn't people be able to buy a slice of KISS? . . . It's a celebration."
Click Here To Read The Full Article
From: David Snowden
David Snowden, President of David Snowden Promotions, Inc. publicly announced this morning that KISSshop.com has been sold to Out Of Control, Inc. After more than a quarter of a million fans have visited www.KISSshop.com on the worldwide internet, and building family obligations, Snowden made the announcement this morning of the transfer. KISS fans need not worry. Out Of Control, Inc. is lead by Keith Leroux and Jeff Stouder of Indiana. Leroux is no stranger to the KISS Merchandise business. Initially, Leroux started a partnership with Snowden in 1983 to form the largest fan-based KISS fan club of the eighties, The KISS Force. In 1986, Snowden decided to pursue an interest in the official Vinnie Vincent Invasion Fan Club. Leroux is also behind the Eric Carr Rockology and ESP (Singer, Kulick, Corabi & Cochran) compact disc releases. Fourteen years later, Snowden has come full circle with Leroux. "Having more family obligations and the desire to devote more time to my studies and full-time day job (Note: Snowden has continued to work a full-time 40-hour a week job for the last 7 years!), I had received several offers from other companies interested in purchasing KISSshop.com. I chose Keith because I know he will continue the tradition that I started. He has the drive, ambition and dedication to continue the website and business just as I have for the last 14 years." Out Of Control, Inc. is located in Indianapolis, Indiana. Business will continue with Out Of Control, Inc. assuming the responsibility of fulfilling all backorders and preorders for any KISS-related merchandise orders taken by David Snowden Promotions, Inc. Snowden stressed that, "There will be no interruption in business. The only difference fans will see from my company to Out Of Control, Inc. will be orders are now shipping from Indianapolis instead of Baltimore. Anyone with a backorder or preorder need not worry, Keith and Jeff will fill and ship all orders. All records, receipts, mailing lists and inventory has been turned over to the guys and will be taken care of." KISSshop.com was the first secured KISS merchandise site on the web and has been the leader in KISS Merchandise and Collectibles for the past several years. KISSshop.com is a fully functional secure website using a shopping cart feature to allow fans to browse the entire KISS Catalog of Merchandise and view each item before you order.
From: Kathy Labonte
A reminder to those who missed out on getting the original Tribute CD "Creatures of The Net" from the musicians of the KISS Army OnLine (KAOL): There's only 2 weeks left to pre-order the brand new pressing of this CD at a special $13 price. The first 1998 edition sold out and we've got a newly mastered upgraded version now being manufactured. Release date is late July. It will sell for $15 at that time but right now until the end of June you can pre-order it for only $13 and that includes the shipping (international customers $18). This new 2000 version called "Creatures of The Net - A New Millenium" has 5 brand new songs not on the original, new packaging, and additional collectable inserts including a KAOL tattoo! All profits from this disc are being donated to the Alzheimer's Association. This is a great chance to support a much needed organization while getting a great KISS Tribute CD. 70 minutes of music, 21 tracks including a guest appearance by Bob Ezrin. Time is running out to get the special price. Come on over to the website now to see the full song lineup and learn more about the KISS Army OnLine music series for charity. Ordering is simple and quick on our secure server or order by phone. www.kissarmyonline.com
From: Kai Roen
I just wanted to let everyone know that the official Eric Singer website has moved to a new location. The new address is : http://www.eric-singer.com
---
June 16
---
From: Ed Trunk
Paul Stanley will do a rare live, in person radio interview on Saturday Night Rocks with Eddie Trunk this Saturday night (6/17). The show can be heard in the NY, NJ & CT areas on 102.7 FM WNEW from 10PM-2AM. Listeners will be able to call in and talk with Paul live on the air! Unfortunately WNEW policy doesn't allow webcasting, but it is a 50,000 watt signal heard clearly throughout the tri-state area. More info at wnew.com, click on Saturday Night Rocks.
From: Michael Moshay
I just came back from the Butterfield showroom in Hollywood where they have all the lots on display. WOW. The only way to describe it is to say that it is like visiting a KISS museum. When you walk in the first thing you see is the original oil painting from the Love Gun cover. There was so much cool stuff! Hand written lyrics of songs like, Rock & Roll All Night, Christine 16, Ladies Room and more. Lots of early photos, tons of guitars and basses. There were none of Aces guitars that I could note. There were lots of artist rendering of stage designs, comics, blue prints, album covers. They had the Unmasked original painting as well. Then tons of costumes. There was one rack that had three of Peter's stripped vests from love gun tour and four of aces silver wraps. There at least three sets of full band mannequins in complete costumes. Complete drum kits, make up cases, Marshall amps, gig travel cases. It was like being back stage where you could check out all of their equipment. Seeing this was a must for any Kiss fan. They actually had a lot more stuff than you can see from the pictures on the butterfield site. This was definitely one of the cool benefits of living in LA. Click Here For More KISS Auction News
From: Steve Corral/Ebay
The Ebay KISS Auction preview page is now up for viewing! The page previews the first lot (of five) to be auctioned online at eBay, as well as offering the Auction catalog, poster and photo set for sale. The Ebay online auctions will take place June 26 through August 3 and you can check out the Ebay KISS Auction preview page at http://www.ebay.com/KISS/
---
June 15
---
From: Metal Edge Online
KISS is extending the Farewell Tour a bit longer, with dates having officially been added through September 18 in Providence, Rhode Island. The tour will likely end with New York area dates at a venue to be announced in September [unofficially previously reported to be a four night stand at Madison Square Garden at the end of September]. Click Here To View Brand New KISS Farewell Tour Dates!
From: Entrypoint.com
HOLLYWOOD (Variety) - In between sold-out shows on the KISS farewell tour, bassist and co-founder Gene Simmons has set up a handful of fully financed pictures in a bid to segue from rocking to producing. Paramount already has greenlit the Simmons-produced "Neil Bogart Story" about the late Casablanca Records impresario, and Simmons got his first producing credit on last year's "Detroit Rock City." But the fledgling Gene Simmons Co., which also has music and book arms, aims to transcend the KISS brand. Front-burner film projects include:

"Tennessee Waltz" - a thriller funded by indie producer Interlight Pictures about a down-and-out cop who goes to Nashville to pursue his brother's killer and uncovers political intrigue. Budget is seen at about $35 million.
"November Files" - also at Interlight, is another mid-budget thriller. The script is by Tim Bogart, son of Neil Bogart and a producer on "The Neil Bogart Story." Director Stuart Baird ("U.S. Marshals") is said to be eyeing the picture.
"Sex, Drugs and Rock and Roll" - a comedy at Disney focusing on the relationship between a flamboyant rock star and the button-down cop assigned to protect him. The script is by Robbie Fox, who penned "So I Married an Axe Murderer."
"My Generation" - based on the book of the same name by Michael Gross, a senior editor at George magazine. Gross describes it as "the life and times of the Baby Boom, a Studs Terkel-y kind of book" about 20 Boomers, some famous and some not."
Simmons does not have a studio deal and does not foresee one, preferring to handle each project individually. "It's easier without overhead," he reasoned. "I get things done by picking up the phone."
From: Undercover.net.au
KISS' Gene Simmons has announced his support for the lineup of the current Diana Ross and the Supremes tour, regardless of the fact that Diana is the only original member. Simmons, a former lover of Diana's, has commented that despite the questionable lineup calling themselves The Supremes, the audience are only there for Diana. Original member Mary Wells has been outspoken about not being invited on the tour with Diana electing to go on the road with two lesser known members who joined the act after their fame. According to Simmons "People are not going to see Mary Wilson sing a song, they want to see Diana. Maybe there is a negative vibe about the show but where do you think that started?" he told the American Fox Network. KISS are also doing their own tour at the moment. The farewell tour is expected to be the biggest grossing tour they have ever done, contributing to their retirement plan.
From: BostonHerald.com via Brian Cory
You wouldn't expect anything less than total excess from a Kiss farewell tour, and that's what they delivered at the first of two Tweeter Center shows last night. The show began with the whole band descending from a raised platform, and ended with a shower of confetti and a guitar-smashing finale to "Rock 'n' Roll All Night" that was longer than the song itself. In between came fireworks, exploding guitars, and singer/guitarist Paul Stanley on a flying trapeze. Of course, none of this made the music any better. It just made the show bigger, dumber and more fun, and that's what Kiss has always been about. They may have fought with music critics over the years (and Stanley took time to dis those critics last night), but Kiss music still has a goofy simplicity that wears better than most '70s metal. Everything they played last night, from the first album's "Cold Gin" to last years "Psycho Circus" was a shout-along anthem, and Kiss' hedonistic world-view is hard to argue with. If you can't relate to the idea of rock 'n' rolling all night and partying every day, you came to the wrong place.
Click Here To Read The Full Article
From: Michel Zwartjes
The forthcoming new KISS tribute CD from Sweet Pain now has the working title of "KISS 'EM ALL." The disc will include the tracks: The Oath * All Hell's Breakin' Loose * Is That You * Magic Touch * Every Time I Look At You * Larger Than Life * Unholy * Room Service. The expected release date for the CD is September 2000, and you can check out more info about Sweet Pain at www.pain.demon.nl/sweetpainframe.html Stay tuned for more info as the album continues to take shape!
From: Metal Mayhem


Metal Mayhem Music is proud to announce the CD release of Keel - "The Right To Rock", plus one bonus track. This album, never before available in the US on CD, was produced by the legendary Gene Simmons of KISS and contains some of the 80's best metal anthems. Expected release date is June 20th, and you can reserve/order your copy at www.metalmayhem.com
---
June 14
---
From: CDnow.com
KISS rocker Gene Simmons has successfully fended off a lawsuit brought by a former nanny in Los Angeles Superior Court. The lawsuit, filed by a former nanny of Simmons and longtime companion Shannon Tweed, was dismissed by a Los Angeles Superior Court judge after "the factual basis of the evidence on which the lawsuit was filed came into serious question," said Charles Goldstein, Simmons' lawyer, in a statement to the press. What evidence exactly was unknown at press time. "We never thought anyone we treated like family would sue us," said Simmons in a statement after the victory. "The dismissal of the cas was a complete vindication because we always treated her with respect and dignity," added Tweed.
From: Metal Edge Online
The most spectacular rock band in the world is going out with a bang! This month Metal Edge Online has a 20-page exclusive on KISS, the band that has rocked the world for more than 25 years, to commemorate their last tour ever! Metal Edge Online members can log on to read Paul Gargano's article, "The Greatest Show On Earth Draws To A Close!" featuring exclusive interviews with each member of the band!
http://www.metaledgemag.com/members/feature/index.shtml
From: DetroitKissExpo@aol.com
Bruce Kulick will be the special guest at the Detroit Kiss Expo on Sunday August 6, 2000. Bruce will be appearing from noon until 3PM. Also appearing will be Detroit's own KISS tribute band Detroit Rock City. Check out the official Detroit Kiss Expo web site for Expo location and ticket information. Also on the web site, you can vote for the songs you want Detroit Rock City to play at the Expo! Also, making their premiere at the Expo will be these new Farewell Tour videos: Detroit (both nights), Toledo, Grand Rapids and Cleveland (first night).
From: CDnow.com
If you're a KISS fan, you've probably heard the sad news that their current tour is their last tour. That's right, after 30 years of rock-and-roll mayhem, the band is calling it quits. As a tribute to the rock legends, CDNOW is featuring a Limited Edition KISS Farewell Tour Collectibles Package. The eight-piece set includes collector plates, figurines, even a KISS baseball. Serious collectors will definitely want to get their hands on this stuff. Check it out for yourself at: http://cdnow.com/kiss_farewell
---
June 10
---
From: GodGames.com


Godgames.com sent KISS ASYLUM some very cool preview screen shots of the new KISS video game "KISS Psycho Circus - The Nightmare Child", as well as a downloadable preview movie for the game (similar to a "trailer" you'd see in a movie theater). Make sure to visit KISS ASYLUM's new Nightmare Child News page to check out the screen shots and preview movie, as well as additional game information, multimedia and more! More screen shots and game news coming soon!
Click Here To View The Screen Shots & Download The Movie
From: DailyRadar.com
Thank God For G.O.D. KISS Psycho Circus - The Nightmare Child. When you are at E3, surrounded by thousands of new games and even more PR, Marketing and Sales people trying to tell you why their game is the best, sometimes one tends to become a little desensitized. Therefore, in this land of mediocrity, it is truly an event when a game as good as Kiss Psycho Circus comes along and whips our collective asses. This first person shooter from G.O.D. (Gathering of Developers) is prepared to set the stage for a boatload of quality shooters coming to the Dreamcast. The game is based on the KISS Psycho Circus comic book from Todd McFarlane and will have enough KISS sound bites and references to leave true fans trying to reach their chins with their tongues well into 2002. Players begin as mere mortals and progressively acquire the powers of the Elder. The Elder is embodied by four alter egos; the Demon, the Starbearer, the Beast King and the Celestial. Each alter ego is based on a different KISS member and represents one of the four elements. If you aren't a KISS fan, don't despair, the KISS references are subtle enough that you most likely won't even notice them. The game features a smooth movie-like soundtrack that weaves KISS tunes with atmospheric music and other sound effects.
Click Here To Read The Full Review
---
June 7
---
From: TimesDispatch.com via Brian Cory
For 27 years, fans lapped up KISS' shtick. Now that the aging drama rockers are orbiting the nation on what they claim is a farewell tour, what is the KISS Army to do? Play "Alive!" albums and rock 'n' roll all night, presumably. But on Tuesday, Gene Simmons, Paul Stanley, Peter Criss and Ace Frehley brought their live chutzpah to the stage for a final hurrah -- and the fans couldn't have been more ebullient. Adorned in KISS T-shirts and face paint, the Richmond Coliseum throng of about 7,000 stood, pumping fists and singing along wildly, as the boys from New York unleashed stacks of riffs and fire for a fast-paced two hours. Though it was nothing longtime KISS fans haven't seen a thousand times before, it's still an impressive spectacle.
Click Here To Read The Full Article
From: David Gershik, VP of Sales - Gathering of Developers


Pre-Order now! Expected to ship the week of July 19th! - KISS Psycho Circus: the Nightmare Child w/FREE CD $39.99. KISS Psycho Circus: The Nightmare Child is an intense First Person Shooter that is based on the rich world created by Todd McFarlane in his best-selling KISS Psycho Circus comic books. The world of the Psycho Circus comes alive with vivid, combat-heavy environments, a wall of audio and more eye-candy than a KISS concert. The game plunges four hastily recruited heroes into a demonic world of mystery and horror, where they must battle the hideous freaks-of-nature spawned by the dreams of The Nightmare Child. The player begins as a mere mortal and progressively acquires the powers of The Elder, the supernatural alter-egos of KISS. The Elder, embodied in Demon, Starbearer, Beast King, and Celestial, must together prevent the unraveling of the cosmos. The nightmare minions are largely split into three groups: horde creatures, circus mutants and bosses. The hordes have their strength in numbers and will come at you by the truckload; the circus thugs are stronger, smarter and possess special abilities that vary depending on their profession. At the heart of each realm is a nightmarish boss that will put the player's powers to the ultimate test.
Click Here For More Information & To Pre-Order The Video Game!
---
June 5
---
From: Mike Lavoie
I attended the Minneapolis show on May 18th and had the opportunity to take a lot of pictures to share with all the fans from this show. A special thanks goes out to Danny, the head of security for KISS, for the unique position to shoot the show. These pictures contain a very different perspective of a live show, as you will see from the photos. I was able to capture KISS everywhere from just before entering the stage to exiting the building, which can be seen on the official kiss site along with my review of the show. I hope everyone enjoys these pictures here at KISS ASYLUM.
Click Here To View The Photos!
From: Faith Walker
It has been confirmed that Bruce Kulick of UNION (formally with KISS) will be present at FoxxFest 2000 being held at The Hemmen's Auditorium in Chicago, IL on August 6, 2000. FoxxFest 2000 is an Eric Carr Foundation memorium to benefit The Children's Memorial Hospital of Chicago. Bruce's currently working on a variety of projects including his solo album and biography, tentatively titled "Honorable Discharge." During FoxxFest 2000 he'll be sharing the latest information about his work as well as personal stories about his friend, Eric Carr. Bruce will also be available throughout the day to meet fans for autographs and photos.
From: KISS ASYLUM
More and more bands seem to be trying to take advantage of the interactive features offered by the world wide web as another way of involving their fans worldwide. KISS is no exception, and have taken part over the past few months in "webcasts" of several KISS performances including the Pixelon.com launch party, VH1.com's coverage of the DRC Movie Premiere Party, and most recently Pepsiworld.com's broadcast from a performance of the Farewell Tour in Chicago. In KISS ASYLUM's last Fan Feedback poll we want to know "What has your experience been in participating in these live webcasts of KISS performances?". The response was pretty much all over the place, with 25% of the fans saying it was "Ok but not spectacular" and 22% saying they "Could not access the broadcast" at all. The poll breakdown is as follows: Ok, but not spectacular, 25.4% (434 Votes) -- Not able to access, 22.7% (388 Votes) -- Completely satisfied, 19.4% (332 Votes) -- Waste of time, 13.5% (231 Votes) -- Difficulty accessing, but still enjoy, ,13.1% (224 Votes) -- Not sure, 5.7% (99 Votes)

The Farewell Tour is supposedly the last time the loyal members of the KISS Army are going to get to see the band perform live. Whether you are a veteran of dozens of KISS shows or were fortunate to see KISS for the first time on the Farewell Tour, most fans seem to have a strong opinion about the quality of the show they were treated to this time around. In KISS ASYLUM's latest Fan Feedback poll we want to know "If this is really the last time you get to see KISS live, were you satisfied with the performance you saw?" Click over to www.kissasylum.com/poll/ to cast your vote and make your opinion heard. Also, don't forget to post up your comments about your satisfaction with the Farewell Tour on KISS ASYLUM's KISS Army Online bulletin board at www.kissasylum.com/bbs/
---
June 4
---
From: KISS ASYLUM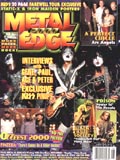 All members of KISS are interviewed in the latest edition (August 2000) of Metal Edge Magazine, which will hit the newsstands this week. Just a glimpse of what this awesome issue holds in store includes: Peter's mention of a biography that would cover "crazy stories from Brooklyn, killings, gangs and drugs and lunacies..."; Paul suggesting that the last KISS show of the Farewell Tour is looking like September and that its "fairly safe" to say it will be in New York at Madison Square Garden, as well as his Broadway jones and how it helped his vocals; Ace's speculation that there could possibly be another tour ("It depends on what night I catch Gene!"), as well as the fact that he already has "about two albums worth of material..." ready to go; and Gene's comments on everything from the rock/hip-hop fusion to plans for a KISS casino and theme park. At nearly 20 pages of interviews and photos, this is a great issue for KISS fans that definately should not be missed!
From: KISS ASYLUM
KISS fans are some of the most opinionated fans in the world of music, and during the last few KISS tours fans from all over the world have sent in reviews chronicling their experiences at KISS shows. Since then, KISS ASYLUM has amassed the largest archive of KISS concert reviews on the internet. Over the weekend we have updated the reviews page to include reviews from the Farewell Tour through the most current show. We encourage everyone to check out the thoughts your fellow KISS Army members have submitted on their recent concert experiences, and while you're at it send us your concert experiences too!
Click Here To Read The Reviews and Submit Your Own!



---
June 3
---
From: Ed Trunk
Eddie Trunk's Saturday Night Rocks show will do a complete KISS concert replay following the band's show at Jones Beach in Long Island, New York Saturday night June 10th. Approximately 10 minutes after the concert ends, Trunk will begin the replay of every song played that night in order. KISS giveaways and other suprises are also planned (remember, this is the show where Ace first broke the Farewell tour news!). Spread the word so that every car is cranking KISS after the show! The show is on from 10PM-2AM every Saturday night on 102.7 WNEW FM, a 50,000 watt NYC station heard in New York, New Jersey, and Connecticut (unfortunately they don't stream on the web). [KA Note: It is our understanding this is not a "live" broadcast of the concert, but the set list songs played in order using the studio album versions of each song].
From: Metal Edge Online
To promote the upcoming KISS Auction of memorabilia on June 24 and 25 in Los Angeles, Gene Simmons will be interviewed on CBS' Early Morning Show on June 9, and will participate in another interview at www.auctionchannel.com before the live event.
---
June 1
---
From: KISS ASYLUM
KISS has officially added more shows to the Farewell Tour, with the additional dates filling out the rest of the month of July and some into August. Click to the KISS ASYLUM Tour Dates page for the latest information.
From: Launch.com via Brian Cory
Almost 25 years after they first slapped on their warpaint and stepped into their clawfooted platforms, KISS are still probably the most gibungous rock 'n' roll band on the planet, period. Their 1996 Reunion Tour--complete with fiery flashpot explosions, fake (?) blood and guitar solos played in mid-air--was the most titanic, rabidly anticipated and megahyped stadium tour since...since...well, since the last time the cosmetically-enhanced, fire-breathing incarnation of KISS hit the road. Suddenly, everyone was signing up to join the KISS Army again. It made perfect sense why the comeback created such a widespread KISS Fever epidemic: The original KISS Army brats were in their twenties now, and longing for a more hedonistic era when bands still rock-'n'-rolled and night and partied every day instead of moping and whining. In fact, for many of these children of the '70s, their earliest, most defining memories of rock 'n' roll revolved around KISS.
Click Here To Read The Full Interview
From: KISS ASYLUM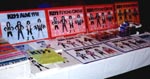 We all love KISS, but there are some KISS fans that go above and beyond in their love for the "hottest band in the world." Thomas D. Anderson is one of those fans. Living on his parents' farm in Stroy Center, Iowa makes it difficult to get to KISS' actual concerts, but Tom has still managed to make himself a veteran of five KISS performances, a sixth narowly missed in the '70's because "the Pope was in town, so my dad talked me out of it." A die-hard member of the KISS Army since the '70's, Tom travels to a half-dozen KISS/collector expos every year to sell and trade KISS memoribilia, inlcuding the special laminated posters he personally hand draws. Tom's work (illustrated to the right) has been featured not just at collector's shows, but also in places such as the Des Moines "City View" weekly newspaper. Tom takes special care to make sure that the costumes represented on the cartoon posters he draws - one series for each of KISS' tours - are a faithful rendition of the band's actual stage gear. For more info about Tom's hand drawn posters, including ordering information, email him at ThomasDA@webtv.net.
From: Faith Walker
This is Faith Walker and I just wanted to send an update about FOXXFEST 2000, and also ask if there is anyone out there interested in getting involved or helping out with promotional, sponsorship, donations, advertising to please e-mail me! We're also looking for Vendors that would like to set up a booth in the expo area of our event, so if there's any interested vendors out there, please e-mail me too! Thanks, and here's the update: FOXXFEST 2000 will take place Sunday, August 6, 2000 and benefit The Children's Memorial Hospital of Chicago [2300 Children's Plaza Chicago, IL 60614 (773) 880-4000]. FOXXFESTwill be held at The Hemmen's Auditorium, 150 Dexter Court, Elgin, IL 60120, (847) 931-5905. The Hemmen's Auditorium is located 2 miles from I90 off of Rt. 31. There are 4 hotels within 5-10 miles of the Hemmen's Auditorium. We will be contacting them regarding rates and see what we can do for people that would be interested in renting a room. The cost is $10.50 per adult, $ 5.50 per child under 12. Re-entry allowed through the day with hand stamp. FOXXFESTwill run from 1:00pm - 10:00pm. Tickets can be purchased in advance through the Hemmen's Auditorium, either by mail or phone. There will also be tickets available to purchase at the door the day of the event. Tickets will officially go on sale on 6/19/2000. For phone orders call (847) 931-5900. Credit card orders only $1.50 Handling Fee. Credit Cards Accepted: MasterCard, Visa, Discover, Novus. Mail Orders should send # of tickets needed and payment to: The Hemmen's Auditorium, Attn: Box Office, 150 Dexter Court, Elgin, IL 60120. The planned events include: 2 contests/3 raffles, 2 local band performances, 1 acoustic set, 1 Eric Carr Tribute Band, 1 Headliner **Blackout**,**Trauma**,**Ralph Carle (Prophecy)**,**Eric Carr/80's Kiss Tribute Band (Headliner)**, **Video Presentation**. We'll have things like pizza, soda and chips, etc, since this is going to be an all ages, non-alcohol event. We're also working on some celebrity appearances, and will make announcements as they let us know their schedules, availability and involvement with our event. We will also have some autographed items available for auction from the following celebrities: Misfits, Bon Jovi, Late Night Orchestra (David Letterman's Band). As of 6/2/2000, our Official Sponsors are: Domino's Pizza in St. Charles, IL, Frito-Lay, Guitar Center in Arlington Heights, IL For additional information or inquiries, please contact: Faith Walker, 642 Bode Circle Apt. 214 Hoffman Estates, IL 60194, (800) 524-3390 Ext. 3655 (Daytime), (847) 885-9718 (Evenings) thefoxrox_99@yahoo.com, faith_walker@nas.adp.com
From: Patrick Demontigny
The Montreal KISS Expo staff is proud to announce the addition of a second special guest at the expo which will take place at the Maritime Hotel Plaza on August 27th. Bill Aucoin will once again appear to tell us more tales about our beloved band. For more info, feel free to email us at www.kissexpo.com or call the hotline at (450)349-2686.
From: KISS ASYLUM
The current official release date for the KISS Psycho Circus: The Nightmare Child is July 17th for PC and sometime in August for Sega Dreamcast.



KISS Guitar Tabs
The #1 source for KISS Guitar and Bass tabs on the internet! A great resource for those KISS fans that can wield an ax!

KISS Album Focus
Exploring the history of the band through each album release. You'll be able to find out the logic behind the releases, what was going on in the band during the recording of albums, what the band was up to in the period leading up to studio time, and lots more information which should be of interest to the diehard fan!

Sound Off KISS Army
KISS ASYLUM wanted to open the door to other writers out there and give them a place where they can voice their opinions about KISS. We bet there are more than a few of you who have at least one KISS related topic burning in you that you'd love to write a one time piece about. Well, KISS ASYLUM is happy to bring to you a forum in which to do so in our new feature "SOUND OFF!" KISS ARMY.

KISS Thought Vault
The "Summertime Memories" Kiss Thought Vault finds Ron Albanese waxing nostalgic over summers past, by way of release dates and pinball. A certain starry-eyed little girl also secures her place in Vault history. Also mentioned: The Harlem Globetrotters.

KISS Video Spotlight
What I have in store for you is a real treat. What you are about to read is an interview I recently completed with WNEW DJ (and fellow NJ resident) Ed Trunk.