June 2005 News
Page updated on June 30, 2005
All news should be considered an unconfirmed report unless verified, and all information published at

KISS

Asylum is attributed to the source from which it was received so that readers may judge the validity of the statements for themselves. All information is confirmed where possible, and all publication is governed by common sense.


Have

KISS

news to report? Email us at news@kissasylum.com.
---
From: Jim Frangella
Tickets for the 2005 Chicagoland

KISS

Expo are now on sale at Fansanity.com. The Expo featuring ERIC SINGER, Black Diamond and Bill Starkey, will be held Saturday September 3rd at the HOLIDAY INN - COUNTRYSIDE 6201 Joliet Road, LaGrange/Countryside, Illinois 60525-3958. 1-(708) 354-4200

More special guests to be announced soon!

Ticket prices are $18 in advance and special VIP passes are $25 each and include a free ERIC SINGER

KISS

guitar pick. Click this link for ticket info:
[more]
---
From:

KISS

Asylum.com
by Keith Leroux
Congratulations to our good friend Spiro Papadatos (pictured with Gene) who got married over the weekend!!
---
From:

KISS

Asylum.com
by Keith Leroux
Rumors continue to circulate that Ace will play with Mountain this Weds. night at BB King's in NYC. Yesterday Richie Scarlet confirmed it on the RichieScarletWiseGuyFromNewYork yahoo group - Ace will be performing at the show.

We shall see...
---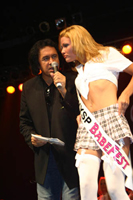 From: WYSP
by John
Friday, June 24th at The Electric Factory
Hosted by 94WYSP's COUZIN ED!!

Your co-host for the evening, The Demon... The Fire-starter... The God of Thunder... Rock and Roll's ultimate ladies man... the one and only... GENE SIMMONS!

Featuring musical guests: DANKO JONES & Philadelphia's own, OCTANE!
[more]
---
From:

KISS

Asylum.com
by George Xirocostas/

KISS

Asylum Australian Reporter
What a great night we had last night. I am still deaf from the noise. Standing in the front of the stage next to the speakers didn't help but it was worth it. Melbourne band "The Stand" started the night off at around 9:30pm with 10 songs with the second last song being "Is that you". They are an awesome band having seen them with BRUCE KULICK in the past.

Then at around 10:15pm what we were all waiting for "ERIC SINGER & Friends "got on stage. They brought the house down with their awesome display of rock'n'roll.Ryan Roxie on guitar and vocals, Damon Johnson on guitar and vocals, Chuck Garric on bass and vocals and of course ERIC SINGER!!!

They played:
STRUTTER (KISS)
NO MORE MR NICE GUY
COME ON & LOVE ME (KISS)
SHE (KISS)
NOTHING TO LOOSE (KISS)
FOX ON THE RUN
CHERRY BOMB
SWEET EMOTION
HIGHWAY TO HELL (ACDC) FOR THE AUSSIE FANS
SURRENDER
SCHOOLS OUT
BLACK DIAMOND (KISS)
I LOVE IT LOUD (KISS)
ROCK N ROLL ALL NIGHT (KISS)
[more]
---
From: Sydney Morning Herald
Where Annandale Hotel, cnr Parramatta Road and Nelson Street, Annandale
When Tomorrow, 8pm
How much $28
Bookings 9550 1078

The odd experimental conga solo aside, it's not often drummers are given the chance to shine. Or speak.

Some might say there's a reason for that, but when ERIC SINGER, the drummer from

KISS

, opens his mouth, it's as if he's speaking for every drummer that ever lived. The words race from his mouth. The man comes across less like a booze-addled glam rocker than a mobile-phone salesman in a hurry to meet his monthly sales target.
[more]
---
From: Reuters
photo by Lee Celano
U.S. actress Shannon Tweed and husband U.S. rock musician GENE SIMMONS arrive for the premiere of 'Rize' at the Egyptian Theatre in Hollywood June 21, 2005. 'Rize' is a documentary film that focuses on a new dance movement in South Central Los Angeles modernizing moves indigenous to African tribal rituals. REUTERS/Lee Celano
---
From:

KISS

Asylum.com
The

KISS

Army Tribute (Jim Seda as Gene, Paul Helms as Ace, Gary Stevens as Paul and Mike Sivo as Peter) will play at the Deer Park Family Festival in Huguenot, New York on Friday, July 15. All proceeds will benefit Outreach Orange, an organization to assist families who were victims of the April floods in Orange, Sullivan and other nearby counties. Hope to see you there, as the guys Rock and Roll All Nite for a great cause. More info soon at www.kissarmytribute.com and outreachorange.org.
---
From:

KISS

Asylum.com
by Matt Campbell
Hey

KISS

Army!!!

Just a quick note to let everybody know that the "Hottest Band In The Middle East"

KISS

Army Iraq, will be performing our second show on the 4th of July here in the wonderful world of Iraq. Once again, we will make sure that Iran hears us from our base! Take care,

KISS

Army, and I'll talk to you all soon!
---
From: Cassidy's
DEUCE July 16 live at Cassidy's Tavern & Sports Bar
34-16 Broadway * Astoria, NY. 11106.
---
From: GeneSimmons.com

---
From: Undercover.com
by Paul Cashmere
The debut album from The Click Five will feature guest appearanced from PAUL STANLEY of

KISS

and Elliott Easton from The Cars.

The band who describe themselves as "new school power pop" will release their debut album Greetings From The Imrie House in August. The title is a reference to the street they lived in in Boston while recording the album.

Adam Schlesinger from Fountains of Wayne has contributed two songs to the album - 'Just The Girl' and 'I'll Take My Chances'.
[more]
---
From: Calgary Sun
by Louis B. Hobson
Almost 25 years ago, Jean Simmons (pictured with Kirk Douglas in 1960's "Spartacus") realized some of the fan mail she was receiving was not intended for her.

With a career spanning decades, Simmons, 76, has certainly received her share of fan mail.

There was always the weird among the adoring and complementary.
[more]
---
From:

KISS

Asylum

---
From: July 2005 Hit Parader
Reported by KISSAsylum reporter John Kelly
The Top 100 CD's In Metal History
4. Alive
16. Destroyer
33. Love Gun

Also made the list for the following:
All-Time Top 10 Live Albums:
1. Alive

All-Time Top 10 Metal Albums Of The 70's:
2. Destroyer
[more]
---
From: Contact Music
GO-GOS bass player KATHY VALENTINE has lined up a supergroup for her debut solo album LIGHT YEARS, calling on guitar greats ACE FREHLEY and GILBY CLARKE to help her out.

The pop punk icon will also be joined by ELVIS COSTELLO's longtime drummer PETE THOMAS and BLONDIE's CLEM BURKE on select tracks.

The album, which was recorded while Valentine was pregnant and is due out later this year (05), will feature a cover of GARY MYRICK's GUITAR, TALK, LOVE + DRUMS.
---
From: GeneSimmons.com
Gene,
As a veteran of the Gulf War (1990-91) I want to thank you for your support of our military. It is rare and I suppose politically incorrect for a celebrity to support military action instead of protesting war. No one seems to realize the biggest group in support of peace is the American fighting men & women in the armed forces. It is their lives that will be at risk. The biggest difference between them and the protesters is the knowledge that sometimes you have to stand up and fight and are willing to do so. Thanks again for your support.

Buffalo

Response from Gene:

I have to say I am, by and large Liberal in domestic policy issues and completely Proactive, instead of Reactive in Foreign Policy. I'm embarrassed by the public, political behavior of celebrities, who have about as much qualification to make a rational political assessment of our foreign policy, as a politician might have about being in a band.

I would say, in hindsight, if Hollywood wants to be effective in electing its political leaders, best to keep their mouths shut, or perhaps simply act as private citizens and vote your conscience. In point of fact, the 'other side' (which I often disagree with in domestic issues), took great pleasure in taking out Nationwide billboard ads featuring famous faces from Hollywood...with a message along the lines of "Thank you Hollywood, for giving us four more years." Thank you, indeed.
---
From: Stickman-Radio
Original

KISS

guitarist ACE FREHLEY presented the legendary LES PAUL with his own signature model of the guitar on Monday, June 13th at the ridium Jazz club in New York.

The "ACE FREHLEY Les Paul" was a gift from Frehley to Les in celebration of his 90th birthday this week.

Aside from his love of the Les Paul guitar and the honor awarded Ace when his own signature model was issued in 1997, Frehley is a great admirer of the man himself.
[more]
---
From: Associated Press
Kara Lenae, left, accompanies rock artist GENE SIMMONS, right, out of a limousine as he arrived at the Texas Motor Speedway, Saturday, June, 11, 2005, in Fort Worth, Texas. Simmons will introduce the drivers at the IRL Bombardier Learjet 500 race. (AP Photo/LM Otero)


---
From: http://www.biggleswadetoday.co.uk
Did you have a teacher like this?

Wild man of rock GENE SIMMONS - better known as the front man of outrageous group

KISS

- could soon be teaching Stratton Upper pupils.

The rock star who was known as The Demon during the height of

KISS

' fame during the 80s, is taking part in a second TV series of the show that sees him turning youngsters into stars capable of supporting one of the world's biggest rock bands in a major concert.
[more]
---
From:

KISS

podcast.com
The

KISS

Podcast show number 6 was just released. The theme for this show is vacation time. The songs I play on this show are accompanied by a small review of the song by members of

KISS

and people related to the song. These reviews come from the book KISS: Behind the Mask: The Official Authorized Biography and we play a new

KISS

Test. Please click on the link bellow to download the show or listen to the show directly from your browser. Or subscribe to our show by way of our xml subscription feed (instructions to be found in the Marshall Amp on the right).

DOWNLOAD PODCAST #6.
---
From: Bold & Beautiful
As a Plus Size Women I had seen a need for a place for women who are Bold & Beautiful "

KISS

" Babes to be noticed and admired for such beauty!

I invite all gals who fit this description to enter this event and to pass the word onward to other "

KISS

" fans to visit my site.

Are you a Bold & Beautiful

KISS

Babe?
---
From:

KISS

Asylum.com
by Joe in Phoenix, AZ
Just thought I'd let you know that I was at Alice Cooper's bar in downtown Phoenix, Cooperstown, and that Alice gave an impromptu performance at the restaurant last Saturday night outside in the courtyard. And on drums was none other then ERIC SINGER. Eric's playing was really strong, he had a very small kit, but played like the master that he is. I was really excited as I never got to see Eric as the

KISS

drummer, and we were within 10 feet of the stage on Saturday. He seemed to have a good time, and needless to say I left happy.

Joe
---
From: Lerina Lamotte
Perst, Australia Tribute Show

Our nightclub, Black Bettys , has a

KISS

Tribute band called

KISS

This playing on Friday 29 July 2005. Doors open at 9pm and the cost is $15 pre-sale or $20 at the door. For more info call Phone: (08) 9228 0077 Mobile: 0410 788 487.
---
From: PAUL STANLEY's Paradise
As you all may or may not know, on May 31st, Ezboard was attacked and hacked. Over 9000 boards have been affected, including ours. What resulted for us was that over 25,000 posts were lost. Every forum was wiped out, though many survived the crash, but over the following days we watched them empty out with no real way to prevent it and predict it.

Ezboard is trying very hard to restore all these affected boards. Whether or not they will be successful is up in the air. However, whether they can do it or not, we refuse to just sit and wait and do nothing. The show must go on!!

What we have done and what made the most sense was to recreate Temporary? forums which are exact duplicates of our old ones. It's clearly marked and they are all in one section of the board. We are fairly certain this is the only way to go as the old forums need to be left alone until all restore options have been tried by ezboard techs. We also have no reason to believe that any restorals will wipe out our temporary forums. So, what we hope to do is simply move all topics from the new to the old or vice versa, depending on whether or not anything can be restored at all and if so, how much.
[more]
---
From: Jim Frangella
You wanted it back ! You got it back !

KISS

EXPO 2005 CHICAGO

Saturday September 3rd at the HOLIDAY INN - COUNTRYSIDE

6201 Joliet Road, LaGrange/Countryside, Illinois 60525-3958. 1-(708) 354-4200,
[more]
---
From: Deuce

---
From: Heike
Greetings from Babenhausen.

BRUCE KULICK will play with his band UNION in Germany. This time it will be more then "just a concert". November 25th 2005 will be a benefit-show in Babenhausen (near Frankfurt) for children with cancer in Germany. When Bruce was asked last year, if he would ever do such a show he was immediately all for it. There will be lots of surprises for the people.

We also will have Special Guests for that night.

Stay tuned for further information.
---
From: GeneSimmons.com
Here's the Terry Gross/GENE SIMMONS NPR interview you've all been begging for!!! Click Here: Check out "GENE SIMMONS and Terry Gross"
---
From:

KISS

Asylum.com
Kiss Army it's time once again to announce the coming of the 5th Annual Baltimore / Washington

KISS

expo. This year's expo will be held in the same place as last year's expo at the Pikesville Hilton Hotel 1726 Reisterstown Rd Baltimore MD. For special expo room rates please call 410-415-6211.

This years

KISS

expo will take place on October 16th 2005.doors open at 11:00 am till 8:00 pm.tickets are on sale now $15.00 in advance and $18.00 at the door or you can purchase the VIP pass for $ 20.00 that gets the pass holder in 1 hour early and first in line for the special guest autograph session. For advance ticket sales please send payment to the Baltimore

KISS

expo 2849 Westminster st Manchester MD 21102. This year's expo will kick off Saturday night October 15th at the hotel lounge with the Baltimore

KISS

party featuring the

KISS

karaoke where you sing live with the band. The last few years we have been the only expo to do this and it has become a main stay at the Baltimore expo. The next day at the

KISS

expo (October 16th) it will feature

KISS

dealers from around the country selling vintage and new

KISS

memorabilia. This years

KISS

tribute band will be Love Gun with their full Love Gun stage set. A

KISS

museum with

KISS

costumes and rare memorabilia a

KISS

face painter for the kids. Door prizes and a

KISS

look alike contest with first prize of $100.00.There will also be a food court so you can have lunch and not have to leave the expo.

This years special guest will be announced at a later date as soon as everything is confirmed and be on the look out for the Baltimore / Washington expo web page coming soon with all of the updated ticket and guest info. Vendors can contact the Baltimore

KISS

expo at pushband@adelphia.net. Stay tuned. Lots more to come
---
From: Roger Barnes
Australian heavy rock band Shotgun Sacred have done a rockin' cover of the

KISS

classic "Cold Gin" on their newly released EP, A Dark New Order. Along with 3 other covers there are 2 original tracks on the EP and you can check out a sample of some of the songs, including Cold Gin at www.shotgunsacred.com The 6 track EP is available for purchase for just (Au)$10 plus P & H.
---
From:

KISS

Asylum.com
by Keith Leroux
Gene had a brief voice over appearance on last nights episode of the "Family Guy" on Fox. The cartoon featured a skit about Gene's tongue.
---
From: GeneSimmons.com
by GENE SIMMONS
Proud to say my cartoon show, MY DAD THE ROCK STAR can now be seen on Nickelodeon seven days a week!!! And, you can catch it daily, throughout the day....as many as five showings a day. Check your local papers for times. I'll post time and date of airings when I receive the info from Nick TV.

And, MR. ROMANCE, the show I created for Oxygen has been re-upped...which means, they've ordered more episodes. Check it out.
---
From: David Swayne
There are some nice Farewell

KISS

Tour Photos at http://www.dswayne.0catch.com/Kissindex.html
---
From: KCLA
by Jon Troy
ERIC SINGER has done an interview with "Dt.T" for the JonTroy Radio program. The show will air at http://www.kclafm.com on Friday, June 24th at 8:30am. www.myspace.com/jontroywinquist
---
From: TommyThayer.com
by TOMMY THAYER
Question #1 With all your expertise in many different areas of entertainment, are there any projects outside of

KISS

you'd like to do? -- Tabitha Whitson, Tiptonville, Tennessee

ANSWER:

KISS

is my 100% focus and it has been now for almost 15 years. Everything else pales in comparison. We just finished the

KISS

Rock the Nation Live! DVD and it's spectacular and I feel proud to be a part of it. Doc (McGhee) told me it will be coming out this fall, probably in October.

Question #2 Where do you plan to move to when you retire? I know it is years away but what is the plan? -- Jeffrey Cox, Austin, TX
[more]
---
From: The Chronicle
by Jeff Kempenaar

Nights at the Highway 401 service centres can be quiet. Imagine though, seeing a sleepy guitar player from the band

KISS

or coffee craving NHL hockey player enter the doors of the service centre after midnight. It happens every week, a celebrity of some status stops at the gas stations or restaurants along Highway 401 in between Dutton and West Lorne late at night.

Long-time service station employee David Munn explains why theemployees at the service station may not get over excited to see acelebrity. "They're just like us. Celebrity mean you're famous but you shouldn'tbe treated any different. If Steve Yzerman (NHL hockey player) comes inhere I'm going to treat him for who he is, not what he does," said Munnof the Rodney area who works at the Tim Hortons.

In the 1980s though, Munn had the thrill of cooking with GENE SIMMONS and PAUL STANLEY of the band

KISS

. "They were cool. Really normal," he said, adding most bands stay in their tour buses and send an associate in to the restaurant to pick-up food.
[more]
---
From: Chico News & Reviews
by Mark Lore (photo by Tom Angel)
As the curator for Black Lodge, Chico's new weekly heavy-metal DJ night at Mr. Lucky (Tuesdays, 10 p.m.-close), Bob Nalbandian knows a thing or two on the topic. Nalbandian, who also DJs at Centerfolds Gentlemen's Club, the strip joint north of town, and reviews and interviews metal acts for online magazine Shock Waves on www.hardradio.com, started the metal theme night in the late 1990s at Club Lingerie in Hollywood with former Armored Saint/Anthrax vocalist John Bush. As a 16-year-old metalhead working for a metal fanzine, Nalbandian interviewed, as one of his first articles, Ronnie James Dio. That's a pretty big deal, because as the great Tenacious D once sang, "Dio has rocked for a long, long time."

Who's the coolest metal dude you've met?

I'm the ultimate Sabbath guy, so when I interviewed Geezer [Butler, Black Sabbath bassist], that was awesome. I interviewed Ozzy, too, but it was a phoner. I've met Ozzy a couple times, but he was always in outer space. But Geezer, as you know, is the brainchild of Sabbath; he wrote all the lyrics. GENE SIMMONS [bassist for KISS] was a great interview. I interviewed him and Paul [Stanley] in the same day. Paul was cool and did the interview, but Gene, I literally did a three-hour interview. The office was closing and the main editors were, "Dude, come on, we've gotta end this, it's eight o' clock at night." I actually had to kick Gene out. I was like, "Dude, you gotta get the fuck out of here, people here want to leave."

What's the first thing that comes to mind when I say Frehey's Comet?

(Laughs.) Rock soldiers come. That's all I can say. And rock soldiers go.


---
From:

KISS

Online.com
Tickets are now available!

JOSEPH E. ROBERT, JR. SPENCER PROFFER, QUINCY JONES, DOC McGHEE and JERRY INZERILLO proudly invite you to:
"An American Night of Thanks"

A spectacular night of music and comedy to support the families of troops that have been wounded or have lost their lives in our defense.
[more]
---
From: Eric-Singer.com
KISS, Alice Cooper, John Waite, Slash's Snakepit, Brian May, Black Sabbath, Gary Moore, Sammy Hagar ….

What would appear to be a list of some of rock's most influential bands or guitarists is actually a small sample of the resume of ERIC SINGER & FRIENDS. ERIC SINGER, the drummer of

KISS

, will be touring Australia with Alice Cooper in June/July this year. Eric first toured with Alice in Australia in 1990 on the back of the enormously successful TRASH album and has played with him on and off ever since. Eric has been a regular visitor to Australia between Alice Cooper and

KISS

tours he has also been back for drum clinics and master-classes as well as other performances including drumming for Queen guitarist, Brian May.

Renown as one of the best rock drummers around, Eric and his Cooper bandmates will be performing 2 exclusive shows in Australia on their days off in Sydney and Melbourne. The band will let loose with a set of their favourite songs by bands like

KISS

, David Bowie, Sweet, T-Rex, Cheap Trick and many others – the music that influenced them.
[more]
---
From:

KISS

Online.com
PAUL STANLEY gave KISSONLINE a small update on the progress of his solo album... "I'm in the studio weekly working on my solo album. Mixing has started and the tracks sound tremendous. I couldn't be happier with the way it's turning out!"
---
From:

KISS

Asylum.com
by Sandy L.
Hi!

I just wanted to share this with everyone, and since I know this site is a great

KISS

site, (having checked it out a lot myself) I thought I'd send this to you!

I recently purchased one of the self portrait prints that Paul did. I first want to say that it is absolutely beautiful. You cannot see the full beauty of it by web pictures alone. To see this in person is the only true way. Paul's use of colors in it is magnificent! When it came, I was surprised at how big it actually is. When I took it to get framed, I had a very difficult time in deciding just what borders, etc., to use, but I think it turned out quite well.

So, to anyone who is considering purchasing this, but has doubts...doubt no more! It truly is a work of art, and our man Paul has outdone himself!

Sandy L.